Gray walls are currently trending due to their neutrality, which allows you to choose a range of accent colors that won't clash with your walls.
Gray adds depth to a room without making the space feel dark and crowded. No room design is complete without curtains over the windows. While many colors go well with gray, we've found 21 curtain color ideas to go with gray walls. Choosing these colors will make your room pop with colors.
Painting your walls gray allows you to redecorate your room with colored curtains to achieve remodels without the labor and costs of repainting.
Neutrals
We'll start our list of the best colors for your curtains to go with gray walls by looking at other neutral colors. Neutral colors are great for giving subtle coloring that won't overpower the gray walls or cause your room to look distracting or cluttered.
White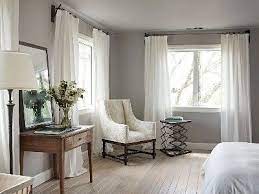 White is a timeless color that pairs well with any color. When matched with dark gray walls, white curtains can make the room feel airy and light against the darker walls.
Choosing oil-rubbed bronze curtain rods is great for a farmhouse feel. Or you can use soft brass to achieve a warm glam style. Choosing sheer white curtains brightens up the space. Taking the curtains to the ceiling rather than to the top of the window frame can make the ceiling look higher, perfect for small rooms that you want to look bigger.
Cream
Cream is another suitable neutral color to pair with gray walls. This light color adds warmth to the space that you wouldn't get when using white curtains.
If you want to take your design a bit further, consider curtains in multiple colors such as cream and tan stripes to get a contrast of colors that brightens up gray walls.
Oatmeal
Oatmeal is another neutral color that goes well with gray due to the blend of yellow and gray tones. Since gray walls can make a room feel cold and unwelcoming, soft colors like oatmeal warm the space up.
Choosing warmer accent colors with oatmeal-colored curtains allows the gray walls to feel light and airy rather than cold and boring.
Dusty Rose
Dusty rose curtains are traditionally for nurseries. But many people are incorporating them into other rooms with gray walls, such as the living room or dining room.
This color can make any room look sophisticated, paired with gray walls, olive and burgundy accents, and white furniture.
Charcoal
Charcoal looks excellent with gray walls because of the similar color tones. Charcoal is a darker shade of gray that's almost black. Pairing dark charcoal gray curtains with gray walls add contrasts. You can choose solid, designed, or embroidered curtains.
Hang your curtains from wrought iron curtain rods and metal tables with a brightly colored couch to keep the neutral colors from looking too bland. Use charcoal curtains on light gray walls for a modern, sleek design. Complete the look with modern furniture and accent pieces.
Tan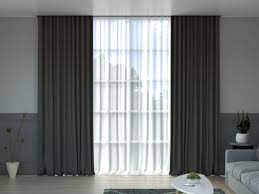 Tan is a warm, neutral, almost brown color that pairs well with cooler grays. This color gives the room a warm glow that can help make small spaces look cozy and bright.
This color goes well in small bedrooms or living spaces with gray walls where you need to brighten up the room without using bright colors.
Bold Colors
If light neutral colors aren't your thing, you can choose bright, bold colored curtains to go with gray walls. Let's look at some of the best bold color choices.
Navy Blue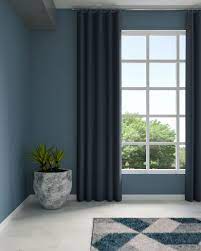 Navy blue is a superb choice for curtains to go with gray walls. This deep rich shade provides contrasting colors that draw the eye without darkening the room.
Pair the look with brown camel furniture with warm-tone or neutral cream and white accents. When choosing a bright color for the curtains, using warm or neutral tone colors can prevent the space from looking too colorful.
Chalky Blue
Blue and gray complement each other, no matter which shades of gray or blue you choose. But some blues will look better on gray, such as a chalky dusty blue. Chalk blue gives the space a sophisticated feel that works well in living rooms, bedrooms, kitchens, or offices.
This color has light gray undertones, making it go excellent with gray walls, creating a soft accent that blends rather than contrasts with gray walls. Whether your walls are a dark gray or a lighter shade, chalk blue will make the perfect pairing.
Because chalk blue has gray tones, it won't add contrasting colors. You can use darker fixtures and accents to get the contrast you need to make your room stand out.
Turquoise
Turquoise is a vibrant, fun color that creates bright color contrasts to brighten up a space when paired with gray walls.
You can use these curtains in play areas, kids' rooms, living rooms, or dining rooms where you need to brighten the space up. Choose other bright, vibrant accents for a cheery, colorful room, or go with darker shades of turquoise to tone down the brightness.
Yellow/Mustard
It may sound like a weird combo, but gray and yellow go great together, making it easy to pair gray walls with yellow curtains.
Bright yellow shades give your space a cheery, warm aesthetic, while mustard yellow provides the area with a more refined look.
Natural Green
Natural green is another fantastic color to pair with gray walls. Shades of green give the space an outdoorsy, earthy aesthetic.
You can choose green curtains with floral patterns or pick a soft olive green curtain that compliments light gray walls. Completing the design with browns and warm neutrals, a few white accents, and some indoor plants gives you the perfect indoor space.
Emerald Green
Jewel-toned curtains go fantastic with gray walls to create a sophisticated, classic living space. While natural green curtains are better for a bohemian feel, emerald green curtains are more elegant and formal.
Choose emerald green curtains for rooms with mid-century modern furniture, light or dark gray walls, and brass accents.
Lilac
Lilac is a pastel purple shade that pops when paired with light gray walls. For people who are not fans of pastels, try darker shades of purple like wine, plum, or magenta.
Any shade of purple looks excellent with gray walls, whether light or dark shades. White or light wood furniture pairs well with purples. Lilac goes best with dark gray walls. If you have darker gray walls, go with violet or bright purple. These shades will also go well with light gray.
While purple is a more feminine color that looks great in bedrooms, it can also go well in living rooms, playrooms for children, or cozy sitting rooms. Purple pillows, gray bedding, and warm furniture create a more elegant space.
Coral
Coral-colored curtain panels are sure to brighten up any gray room. But this vibrant pink shade will provide a dynamic pop of color.
If you want to achieve a bright, colorful space, complete your design by choosing white accents. To tone down the brightness of coral, choose navy blue colors instead.
Charcoal Grey
Charcoal gray curtains are the perfect choice for spaces where you want a masculine feel. You can also use this color curtain if you prefer a darker color palette.
Charcoal gray goes great with pale gray walls, as the darker tones complement the lighter shades without overpowering the walls. Charcoal is almost black, although it's softer, allowing the space to feel warm and inviting. Pair with more delicate accents for pops of brightness to keep the area from getting too dark.
Green
Shades of green look great with gray walls, whether in a solid color or floral patterns. Green curtains or valances give your space a natural, earthy look.
You can choose green curtains for various rooms in the house, from the living room, and kitchen to the bedrooms. Complete the design with indoor plants, color accents in olive green, cream, or beige, and natural fixtures. White furniture goes well with darker shades of green.
Patterns
Many people prefer to choose curtains with patterns rather than one solid color. Popular patterns for curtains include stripes, geometric prints, plaids, and florals. Patterns are great for adding various colors to a room or matching other design pieces like paintings, furniture, or throw pillows.
Vibrant Florals
Are you a fan of floral prints? Then we have good news for you. Choosing large floral curtains in vibrant colors is the perfect way to add splashes of color against gray walls.
Larger prints make it easier to decorate a room without making it feel cluttered, whereas small images can make the space look too busy. And because gray tends to wash out other colors, you don't have to worry that your vibrant floral print curtains will dominate the design.
You can pair floral print curtains with solid neutral furniture and accent pieces or carry the vibrant colors into your furniture and room decor.
Natural Stripes
Striped curtains are a great way to bring in some color without overdoing it. Choosing neutral-colored stripe curtains is the perfect solution for giving your space character.
Natural stripe curtains won't pop with color, but they will add warmth and texture to break up the monotony of gray walls. Layers of neutral color striped curtains give the room extra depth and elegance.
Ombre
Ombre is a great way to make a statement with your space without choosing a bright curtain color. Ombre curtains come in a range of shades, with the primary color fading out into other colors. You can select these curtains for any room in the house.
Due to the way ombre curtains fade out in color, it's the perfect way to have a burst of color to complement gray, while the fading softens the space and the color of the curtains. These curtains add depth and layer to your roof by having pops of color fading to a more neutral color that then bursts into color at the bottom.
Buffalo Check
Buffalo check curtains are essential for country, rustic, or farmhouse decors. You can get this style in various colors, allowing you to pick a color combo that matches your room's color palette.
The checkered pattern of these curtains provides the perfect accent for gray walls by adding color tamed down by bright colors. This curtain style is ideal for creating a cozy, homey feel in any room in the house. Thinner fabrics allow you to have more airflow from open windows than thicker materials.
Multi-Color
Multi-colored curtains are the ultimate way to achieve an easy but fun bohemian aesthetic. Pick curtains with a mix of patterns and colors to make your windows stand out.
Mix and match different multi-colored curtains against gray walls to make your windows the focal point of the room. To ensure your windows remain the center of attention, pick furniture in neutral solids. Choose one or two colors from the curtains for accent pieces.
Conclusion
Gray is the perfect choice for walls because it goes with any other color. You can make your walls neutral by choosing a light gray color. Or give your walls contrast with a darker gray. We've given you X curtain color ideas that go excellent with gray walls. Whether you choose solid colors, patterns, neutral or vibrant shades, gray walls allow you to easily redecorate as often as you want without repainting your walls.