The color palette for your home should reflect your personality and the mood you want to create. Interior designers tend to overlook burgundy both as a primary or accent shade. What are the colors that go with burgundy?
Colors that go with burgundy include monochromatic white, black, navy, and grey. Effective contrasting colors include teal, green, and gold. Complementary colors that go with burgundy are purple, red, and orange. Neutrals are also a good choice.
The rich red-purple of burgundy is reminiscent of the full-bodied wine it is named after. Burgundy creates warmth and interest in any room and is bold and versatile enough to match many colors. Let's look at 11 colors that go with burgundy in your interiors.
Which Colors Go With Burgundy?
Burgundy is a blend of red and purple, combining both warm and cool undertones. This combination makes burgundy an ideal companion for monochromes, neutrals, bright, dark, and light shades across the color wheel.
Once you add brown, burgundy morphs into maroon and loses some of its richness. Stick to a true burgundy if you want to add depth and mood to your décor scheme, whether in the kitchen, bedroom, or living room.
Black
Let's begin with one of the most dramatic combinations: burgundy and black.
Putting together two dark colors might suggest a gloomy mood or harsh darkness, but the result is extraordinarily glamorous.
You can create a lush, romantic bedroom with burgundy as the anchoring shade. Add textural elements to prevent starkness: plush upholstery, velvety cushions, snuggly blankets, and embossed wallpaper make a luxurious, Hollywood hotel impression.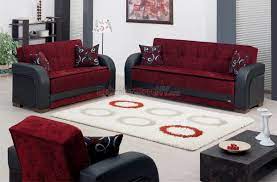 Combining black and burgundy with clean lines in a room with lots of natural light makes a chic color palette ideal for a modern, masculine bedroom.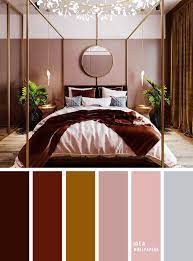 White
Burgundy and white make for a timeless combination.
If you find burgundy too rich for your taste, let white become the main feature, with accents of burgundy to create a modern, minimalist effect.
The juxtaposition of dark and light is almost monochromatic, with the white looking brighter and the burgundy bolder.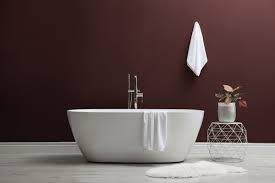 Contrast an inviting burgundy accent chair with a stark white wall in an entrance hall or living room.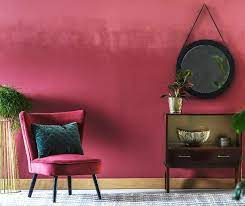 Neutrals
When white feels too clinical and barren, turn to the neutral palette of taupe, beige, and ivory as the main attraction.
These natural shades are subtle and serene, softening the weight of burgundy and making it seem understated.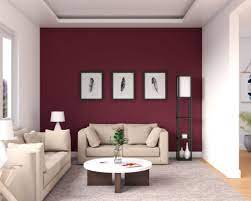 Neutrals combine with burgundy to make a comfortable, welcoming family room. Include natural elements of linen, wicker, seagrass, driftwood, and bamboo for a coastal feel.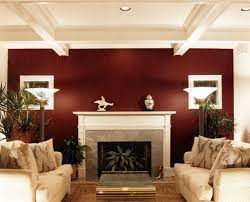 Charcoal
Grey is on-trend for home interiors, ranging from pale dove to intense charcoal. Darker hues pair best with burgundy, which has a natural depth and can overwhelm the lighter greys.
Charcoal and burgundy have natural depth and intensity, and it's hard to decide which shade to favor. Either way, the palette is commanding and atmospheric.
Consider a dining room with moody grey walls and richly textured burgundy curtains and chairs to evoke classical elegance.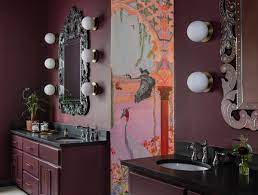 Or go modern and dramatic in a kitchen, putting together stone and steel textures with burgundy accents.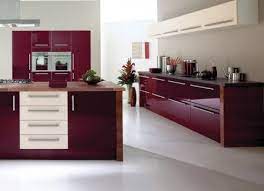 Purple
Burgundy has a purple undertone, which means the two colors combine effectively, especially if you choose a dark magenta or violet.
Whether you anchor the room with burgundy or purple, the color palette has an opulent aesthetic. Purple is a royal, majestic shade, evoking images of ermine-edged cloaks and velvet cushions.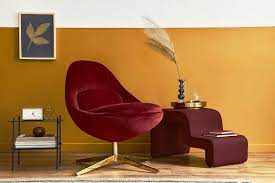 Develop this theme in a glamorous bedroom with burgundy walls. Bringing in blissful purple elements through whimsical touches (a beaded lampshade, a carved candlestick, or a mosaic-topped dresser) will add charm.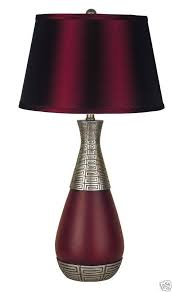 Navy
Burgundy's purple undertones make it compatible with all shades of blue. Navy is one of the best blues to combine with burgundy to create modern, robust interiors.
Combining two dark colors can be somber, but burgundy has enough warmth to create coziness, and navy has enough depth to avoid corporate branding.
Using navy as an anchoring shade for walls and burgundy for accent items is an elegant choice for a masculine study. Include leather furniture and burgundy Persian carpets to add comfort.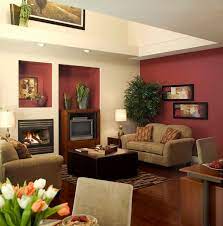 When you paint walls burgundy, you add energy suited to a room used for entertaining. If you have vintage accessories, a beautiful blue sofa or slipper chair adds to a Boho theme or a mid-century modern theme.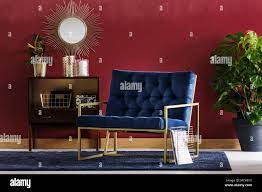 Teal
This blue-green hue is beautiful and adds vibrancy to the burgundy's seriousness. Green and burgundy are complementary colors, so they have combined energy.
This color palette is daring and suits a quirky home, whether your vision is eclectic Boho, or more-is-more grandeur.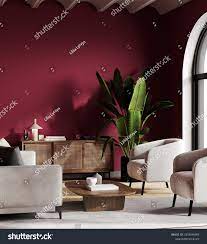 Teal and burgundy are a stylish combination for a kitchen, where the burgundy warms up the cooler teal. Also, consider the colors in a luxe-glam bedroom, livened up with plants.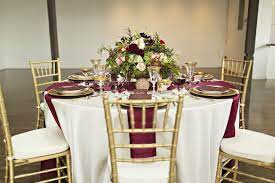 Green
Green and burgundy are contrasts on the color wheel, making them a classic pairing in interior design.
Forest or emerald green and burgundy were popular in the 1980s, especially in soft floral furnishings and dining rooms. There is also the danger of creating a holiday feel if your shades of green and burgundy are bright enough.
Choose dark greens with a deep pine or juniper tint that work with sophisticated burgundy to create a beautiful scheme for a study or modern, masculine bedroom.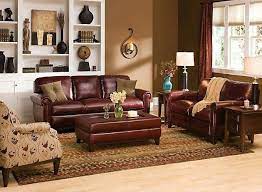 Also, consider the other end of the green spectrum, with chartreuse, rediscovered in women's fashion. The combination of burgundy and chartreuse is electric, with the red-purple becoming a background shade with the green-yellow popping. This pairing is ideal for an eclectic, creative home, especially with retro touches.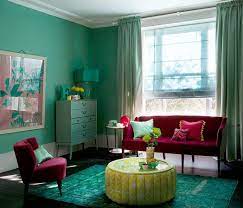 For a more natural palette, turn to muddy olive green, creating a serene, comforting look. Putting olive and burgundy together is elegant, especially in a kitchen.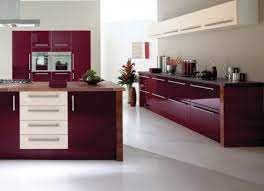 Gold
Yellow and burgundy have never been a great combination, but when you combine the richer glint of gold, your décor has a luxurious and glamorous impact.
Burgundy is the anchor shade in this décor scheme, with gold accents stopping the powerful shade from being overwhelming. Incorporate shiny and matte gold light fixtures, mirrors, lamps, and other statement pieces.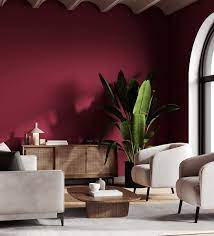 If you make gold the focal point, it becomes glamorous and decadent. Combine gold with burgundy in an opulent living room, dining room, or even a graceful bedroom. For this style, you can layer up gold textiles, embossed wallpaper, and go full Louis IVX.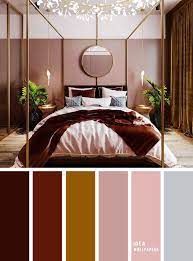 Orange
Orange and burgundy make for a punchy and dynamic interior, and for an inspiring scheme, look for the edible orange shades – papaya, tangerine, apricot, and peach. These shades tend to the red and pink, warming up the cooler burgundy and preventing you from wandering into 1970s browns.
Combining orange and burgundy is a stimulating exercise, so it will do well for high-impact areas, like a rustic-style kitchen. A welcoming entrance hall feels inviting in these shades.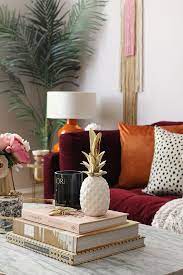 Remember that orange was widely used in the 1950s, so the pairing of burgundy and orange is charming for mid-century modern living rooms, with warm wooden pieces and vintage rugs.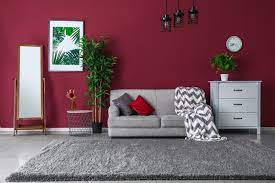 Red
All shades of red go with burgundy, as they are complementary shades – red is one of burgundy's undertones.
Red's warmth livens up burgundy, bringing this traditional combination into the modern era. A contemporary living room comes to mind, with touches of jewel tones to make it elegant.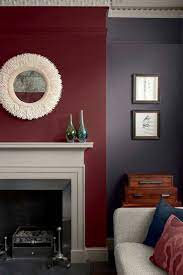 The two colors also create earthiness and homeliness, especially if you delight in rustic and Bohemian interiors. Think of a velvety couch piled with textural Persian cushions, bold artwork, books, and leather footstool.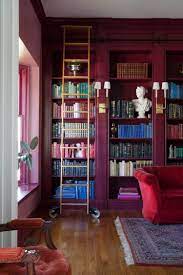 Conclusion
Burgundy is versatile and works with most colors. Colors that go with burgundy for minimalist interiors are white, black, grey, and navy. Neutrals and burgundy make a serene combination. Opulent and glamorous interiors combine burgundy with purple, gold, or red. Boho interiors put orange and burgundy together.