Turquoise is a gorgeous color that can be used in any space in your home. But what are the best colors that go with turquoise?
Colors that go with turquoise are neutral navy, brown, beige, gray, and black. Orange is the opposite color that pairs well with turquoise. Complimentary colors that look good with turquoise are pink, yellow, lilac, and green. Metallic gold and silver also look good with turquoise.
Beautiful neutral, opposite, and complimentary shades pair well with turquoise. Read on for some décor ideas on how to pair the following best colors with turquoise!
Colors That Pair Well With Turquoise
Three color elements make up the color turquoise. Although turquoise lies between green and blue on the color spectrum, there is a dash of a third color in the mix. This color is yellow. Blue brings tranquillity to turquoise, green gives turquoise a crisp feel of new growth, and yellow is turquoise's energy and fun element. So, turquoise is a cheerful, friendly, but also calm color.
Adding turquoise to your décor will give moody and dull spaces a beautiful lift of color and leave a calm but vibrant ambiance. Below are a few gorgeous colors that look stunning when paired with turquoise.
Pairing Turquoise With Neutral Colors
Neutral colors allow turquoise's bright and vibrant color to take center stage. Below are neutral colors that go well with turquoise.
Navy
Classical navy adds sophistication to any space in your home. But it can sometimes feel a bit dark or too traditional. Adding turquoise to navy will lift the mood and brighten up a room.
Beautiful navy blue and turquoise dining chairs stand out in this dining room with their beautiful shades of blue. The walls are painted a shade of navy blue, framed by accents of white in the ceiling, wall panels, and sheer white curtains. Beautiful green ferns in navy blue pots bring a crisp and lively feel to the room. The excellent mix of shades of blue and a touch of turquoise gives the room a calming ambiance.
Brown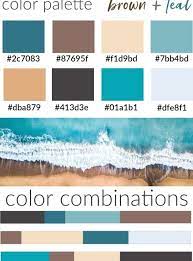 The earthy richness of brown gives the room an invitingly warm feel. Adding a turquoise touch will help lift the heaviness of brown and bring freshness to the area.
The gorgeous turquoise sofa is the focal point of this living room. The rich, warm tones of the brown accent wall balance the vibrant color of turquoise. Adding a neutral beige color to the carpet also accentuates the turquoise color of the couch. The clever use of the same wall color in the pillows blends in beautifully. Adding the floral pillows breaks the monotony of only using solid colors.
Beige
Beige is a natural color with a warm and restful appeal and a touch of sophistication. Beige is adaptable and pairs well with most colors. Mixing beige and turquoise in décor is a perfect balance. The warm feel of beige complements and tones down the lovely brightness of turquoise.
Using neutral beige as the primary color in this living room brings a sense of calm and warmth to the space. The natural light through the windows gives the room a cozy and inviting feel. Adding accents of turquoise to the pillows as a splash of color is the perfect balance to the room. The warm brown of the coffee table pairs beautifully with turquoise.
Gray
Gray is another neutral color that pairs well with turquoise. It is a cool color that can sometimes be moody and emotionless. The best way to bring some life and light into a gray room or décor is by adding accents of turquoise for a touch of fun and excitement.
The dark gray accent wall in this kitchen is a sophisticated and solid balance to this area. Using beige for the flooring and cabinets brings a lightness to the room. Accents of turquoise add a touch of vibrant color to this lovely kitchen.
Black
Black brings elegance and chic into a space. It is a neutral color but makes a bold statement. But alone, black can be somber and unyielding. Brightening the room with turquoise is an ideal match. Turquoise will lift the spirit and add life to black's solid but stable sophistication.
This is a perfect example of where different shades of black bring elegance and chic to a bathroom. The palest touch of turquoise in the walls accentuates the beautiful deep turquoise rug, which is the only color in the room. Turquoise brings a tranquil, serene feel to black sophistication.
The Opposite Color Of Turquoise
Orange is the opposite of turquoise and is a fresh, bold, and fun color. Although turquoise and orange are both vibrant and energetic colors, they look good together. You can tone down this combination by using a lighter shade of turquoise, and instead of orange, use tangerine or coral. To balance these two lovely colors, use a neutral color like beige or white.
Tangerine

This softer shade of orange carries orange's energy and fun color but in a less splashy way. Pairing this more delicate shade with turquoise will still bring vibrancy into the room.
This living area's tangerine and turquoise accent walls are bold and beautiful. The energy and vibrancy of these two colors are toned down by using neutral black and white in the furnishings. The neutral brown patterned wooden flooring brings a warm element to the room. Turquoise, tangerine, and black pillows tie the color palette together, creating a warm and inviting space.
Pairing Turquoise With Complimentary Colors
You can choose to use turquoise as the primary color of the room or as an accent color whenever you need to brighten or liven up a space. Below are some ideas on how to pair turquoise with complementary colors.
Pink
Pink is a warm color that brings a touch of elegance and softness to a color palette. If you are using bright turquoise, use a soft pink shade. Or you could use a vivid pink but tone down the color combination by using a paler shade of turquoise.
Using a vibrant pink and pairing it with a soft shade of turquoise with the balance of white is a beautiful color combination for a bedroom. The cool turquoise and pure white colors are a perfect background for the vivid and playful pink. The light shining through the window accentuates these lovely colors and creates a warm and welcoming feel to this room.
Yellow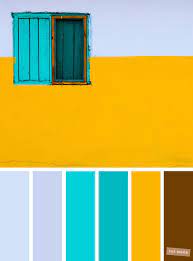 Because turquoise carries some yellow in its hue, both these colors will bring a vibrant energy to a room. When pairing yellow and turquoise, tone down one of the colors using a paler shade. Or balance the room with a neutral color like navy blue and add turquoise and yellow as accent colors.
The soft shade of turquoise and bright yellow used as accent colors in this child's bedroom gives the space a happy but calming feel. The gorgeous golden-toned flooring matches beautifully with the yellow color. Using white as the base color gives the room a sense of simplicity, and adding the splashes of yellow and turquoise brings a fun element to this space.
Lilac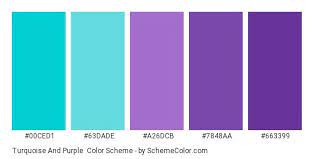 Lilac is a soft shade of violet with a pinkish tint that brings a feeling of romance to décor. It is a soothing and calming color and pairs well with the vibrancy of turquoise.
Turquoise and lilac pair beautifully in this lovely bedroom. The light gray walls are a perfect balance for these two colors. Soft lilac bedding creates a calming effect on the gray and turquoise. Touches of turquoise in the throw and vase brighten the look creating an inviting and refreshing bedroom. The touch of green on the pillow adds a freshness to this lovely palette.
Green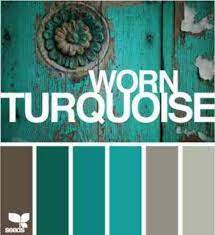 Turquoise and green are analogous colors that fit well together. Using a lighter shade of green will bring a calming feel to balance the energy of a vibrant turquoise color. These colors are a perfect fit if you want a cool and refreshing space in your home.
The bright and vivid turquoise walls showcase the lovely green sofa in this living room. The lighter green shade and the neutral color of white give the room a crisp, calm, and clean feel. Turquoise brings a cool and vibrant touch, and the dark blue pillows an element of serenity, creating a beautiful relaxing space.
Pairing Metal Colors With Turquoise
Metal colors add a clean and elegant feel to the room and add depth to colors. Cool-colored metals such as pewter and silver bring a modern look when paired with turquoise. The warmer-colored metals such as gold add a vintage touch to décor.
Gold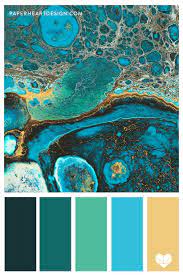 Gold adds warmth and depth to any room, bringing a touch of glamour to the palette. Use a neutral color like black to add drama to the accent color of turquoise. Add splashes of gold to the decor for sheer luxury.
Beautiful light turquoise chairs with gold frames look stunning in this dining area. The muted shades of brown and white accentuate the beauty of the dining suite. A gorgeous chandelier hangs over the table, giving the overall effect a feeling of luxury and grace.
Silver
You can add silver to fabrics or use polished silver finishings in furniture to bring a touch of metallic silver to your home. Whichever you choose, silver adds a poshness to the décor. Silver will add sparkle and shine to vibrant and energetic turquoise.
Beautiful light turquoise, silver framed chairs look lovely in this kitchen area. The accents of silver on the wall clock and the light shade hanging over the table fit well with the soft turquoise. The shades of gray on the carpet accentuate the silver color in the room. The white and silver striped wall is a lovely way to complete this room's quiet and peaceful ambiance.
Conclusion
On the color spectrum, turquoise is a color between green and blue but with a touch of yellow. Thus, gorgeous turquoise is a cheerful, friendly, and calm color that brings a sense of vibrancy and yet tranquility to a room. You can pair turquoise with neutral colors like beige and navy or with its opposite color of orange. Many beautiful complimentary and metallic colors go well with turquoise.