Picking the perfect color curtains to go with your furniture is a crucial component of having a design that's tied together instead of clashing. For example, you will need to be careful about what accent colors you use when you have brown furniture.
One of the best ways to pick the color for your curtains is to look at the other pieces in your roof. Whether it's your area rug, the materials of your tables, lamps, pillows, pictures, or other decor pieces, you can get inspiration anywhere. So, what color curtains go with brown sofas? Try any of the colors on this list!
#1. Metallic Silver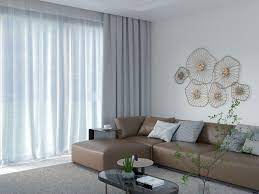 If you like a little bit of glimmer to give your room personality, see how you feel about matching up a brown couch with metallic silver curtains.
Metallic silver adds a bit of cool to tone down the warm hues of brown. But you will want to use the color sparingly because it can be too much too fast, or look for a silver pattern instead of a solid print.
#2. Crisp White Cotton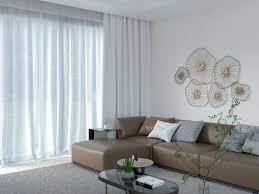 White looks great as a complementary color with any shade of couch, including brown. For example, when you pair a brown sofa with crisp white cotton curtains, it creates a warm aesthetic.
If your brown couch is in a room without a lot of natural light, white curtains can help brighten up the area by reflecting light.
#3. Rich Grey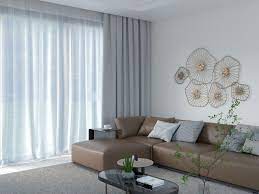 Grey and brown can make a powerful design statement when appropriately matched. However, it may take some comparisons between different shades of grey to find one that works with the color of your brown.
It can be tricky to achieve, but there are no rules on what you can or shouldn't do. For example, if your room already has different shades of grey in other decor pieces, it's easier to blend a brown couch and gray curtains.
#4. Textured or Blended Neutrals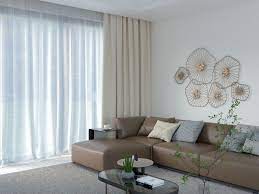 Cream or other neutral-colored patterned curtains can make a fantastic boho design in living rooms where you want something with a design without bright colors.
Consider textured or blended curtains in shades of cream, black, and gray patterns to match a brown couch. Keep the subtle colors throughout the other pieces in your room for a modern aesthetic that's luxurious and comfortable.
#5. Light Blue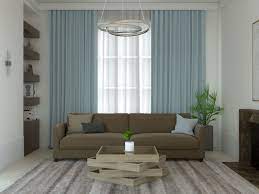 Light blue curtains also look stylish with brown sofas, adding a cheerful, cool ambiance to balance out the warm tones. Thick velvet or soft silk textures give a more luxurious softness than stiffer linen or polyester curtains.
You can also choose light blue curtains to brighten up a room on the darker side due to a lack of windows. The lighter shade will help reflect more of the sun shining through to make it look brighter.
#6. Patterned Cream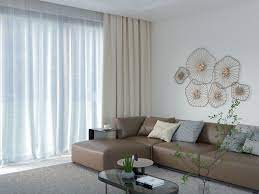 Brown goes with many light colors like white and cream. But to keep the look from being too dull, you can pick cream curtains with a patterned print.
A warm brown sofa with draping cream curtains with a fancy trellis print in a matching brown paired with a gray chair makes the perfect living room. You can also carry the cream down to the floor and add a few different patterned pillows and a throw for a comfortable spot during movie time.
#7. Burgundy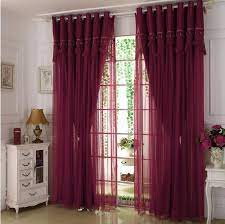 Brown and burgundy look so elegant together, warming up a room with rich tones of autumn colors. For example, you can hang burgundy curtains in a room with a brown couch topped with similar colored pillows, like mustard yellow or rust orange.
Add some cinnamon or pumpkin spice scents, a few flickering candles, a thick carpet, and a crackling fire, and you have the perfect place for a movie binge or a casual gathering spot for friends and family.
#8. Brick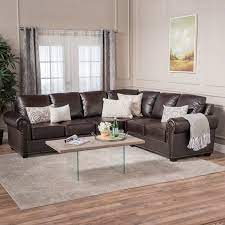 If you have a brown couch and you want to add some elegance to your space, go dark red with your curtains, like brick red, which has a bit of brown nuance.
Tie the color into the rest of your room's pieces with red accent pillows, a fabric ottoman in maroon or burgundy, and eclectic decor of a dark wood end table and a glass coffee table.
#9. Deep Teal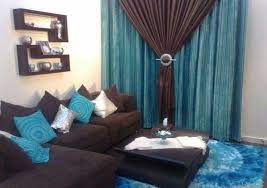 If you like something dramatic for your living room, an unlikely combination that can make a big statement is deep teal curtains and a brown couch.
But because this color is dark, you'll want to limit the use to rooms that get flooded with plenty of light. Adding dark curtains to a dark room can make the space feel outdated. Then, go with a few lighter-colored accent pieces to help brighten up the use of the darker colors.
#10. Green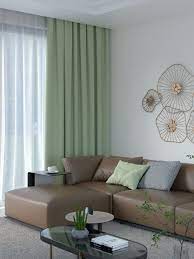 If you enjoy the look of nature's colors, you're sure to enjoy the combination of pairing green and brown. Then, add some darker green curtains in a brightly lit room to invite the outdoors inside.
Or go with a lighter shade of green to inspire more of a spring or summer feel. White accents and soft green pillows finish the look. Add in a bunch of different plants, and you've got an excellent place to escape from the world and decompress in comfort and style.
#11. Different Shades Of Brown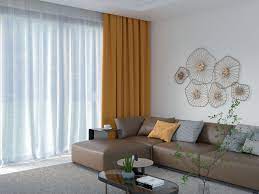 When you do it properly, you can use multiple shades of brown without making your living room look drab. For example, if your brown sofa is a lighter color, opt for darker brown curtains.
Or pair a dark brown sofa with a lighter brown set of window coverings. Finally, add a white chair and area rug with a light wood table to make the space more modern and bright.
#12. Sheer Brown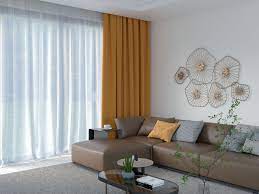 Want the look of brown curtains but don't want to commit to multiple shades of brown? Consider window treatments that are sheer brown instead.
The sheer design lets plenty of light filter in to set the curtains apart from the color of the couch. But if you're using sheer curtains, you may want to add a window shade or blind for when you want privacy.
#13. Black Buffalo Check
Black buffalo check patterns are trending and go excellent with a camel-colored sofa. Hanging checked pattern curtains in a living room with a fireplace can create a rustic, cozy space.
Adding gray checked throw pillows or a similar colored blanket can help pull together the look of black and brown.
#14. Vibrant Colors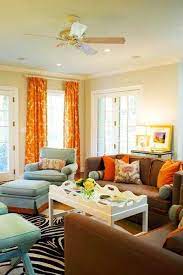 If you're stuck with a brown couch, but you prefer pops of color, you can get creative and pick some vibrant colored curtains for your room.
Shades of navy blue, orange, magenta, and black striped curtains can help you brighten up a rather dull room due to neutral paint and a brown couch.
#15. Navy Blue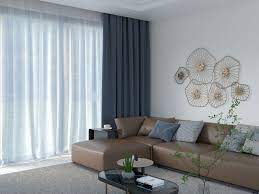 Navy blue is one of those colors that can go with any shade of brown, whether light, dark, or close to tan. But unlike neutral colors such as white or cream, navy blue provides a pop of color.
Having an actual color to pair with brown gives you another option to coordinate with accents in the room.
#16. Mustard Yellow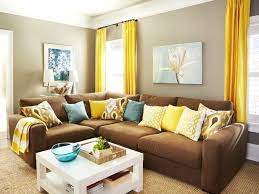 Mustard yellow curtains are a fantastic blend of character and conservative that can give your room a splash of cheerful color.
But unlike brighter yellows, mustard is a darker tone, giving a sophisticated, undramatic touch that will warm up a brown sofa.
#17. Beige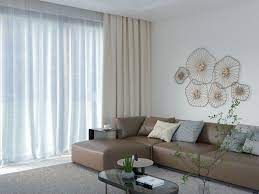 Another neutral palette color that matches a brown sofa is beige. If you have a lot of light coming into the room, darker beige curtains can be a good balance against the dark of the brown.
To continue the harmonious feel acquired by beige curtains, carry the color into the rest of the room, using the lampshades, pillows, and floors. Bronze lamps and black tables complete the look.
#18. Tan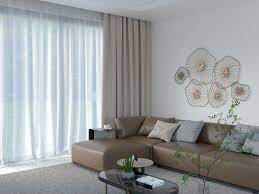 If you have rich brown leather furniture with gray walls, you can keep the color palette simple with the curtains and choose a basic tan color. You can go with a solid print if you want a basic look or go with a striped pattern for a bit of design contrast.
Add a tan rug and pillows, copper accents, and dark wood tables to your room to give the space a relaxing vibe full of natural tones. Or you can use the accent colors in the stripe pattern to decide on your other design pieces.
#19. Red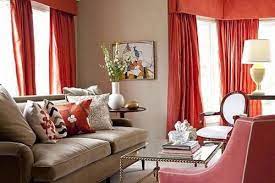 If a brick isn't your shade, there are multiple other shades of red to consider, all of which look fantastic against a brown couch backdrop.
You can add a geometric print pattern carpet on the floor, red patterned pillows, and a few lighter colored accents around the rest of the room.
Conclusion
As this list demonstrates, there are multiple choices when it comes to the colors you can choose for your curtains to go with a brown sofa. The exact shade of brown may inspire you to what complementing colors would go best with your couch. Or you can go with classic combinations like earth-inspired – green and brown; neutral – cream, white, grey, tan, or beige; autumn colors—green, red, orange, yellow; or vibrant – burgundy, magenta, or metallic silver.