It doesn't matter if you choose light, medium, or dark grey; there is bold or subtle colored furniture to suit your stylish new grey walls. If you are interested to know more, read on.
Choosing a furniture color that suits grey walls will depend on the style you are looking for and if you want a warm or cool-toned look. The 8 options that work best for light, medium, and dark grey walls include;
Yellow
Pink
Red and ginger
Orange
Brown
Green
Blue
Purple
If you are unsure of the theme you want to use in your home, many furniture colors and styles will work with your grey walls. You can opt for a bold or subtle look, something in between. New trends such as the Chameleon-styled living spaces have gained popularity in the last few years. We will examine how these colored furniture options work with your grey walls.
What Color Furniture Goes With Grey Walls?
Grey is not just a cool tone; depending on the shade of grey you choose, you can have a warmer grey that can work well if you want to use cool-toned furniture. As most interior designers will tell you, warm-toned walls go well with cool-toned furniture, and cool-toned walls go well with cool-toned furniture.
What's The Difference Between Cool And Warm Tones?
Not everyone is an interior design guru, so tones and colors can be confusing. Colors that are considered warm include;
Yellow and its variations like camel, mustard, or canary colors.
Red and its variations like pink, brick red, and cherry red.
Orange and its variations like deep orange to brown, peach, sunset, or the color of a sandy beach.
Colors that are considered cool include;
Purple and its variations like plum, eggplant, and violet.
Blue and its variations like teal, baby blue, and ocean blue.
Green and its variations like lime, emerald, or sage green.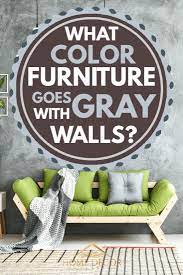 The shades are a few examples of the different shades of warm or cool tones, but there are many others. When you divide the color wheel down the middle, you will see that the colors where the two halves meet are considered hybrids and can be used as a cool or warm tone.
You need to use contrasts to compliment the walls and furniture successfully. We will look at what color furniture compliments cool-toned grey walls first.
What Color Furniture Goes With Cool-Toned Grey Walls?
When you decide to use a cool-toned grey wall, you can use warm-toned furniture and accent pieces to bring warmth into the room. When using a bold color, it's important not to overdo it as it can look overdone, so use another warm color or neutral tones and textures to balance the colors.
The standard ratio is 60% main color (grey walls in this case), 30% 1st accent color (big furniture pieces), and 10% 2nd accent color (scatter pillows or small furniture items). Here are some of the warm-toned colors that go well with cool-toned walls.
Yellow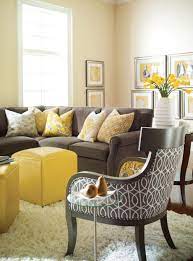 Yellow can be overwhelming or gaudy on its own, but when you choose light to medium mustard yellow furniture or accent pieces, you won't believe how stunning it looks. You can also opt for a metallic old gold yellow. If you choose yellow for your furniture, you have two options;
Use a few pieces of big yellow furniture and another cool, warm tone like bright pink or orange accent pieces, or
For the big pieces of furniture, you can use neutral tones and get smaller furniture items that are yellow.
You can choose a darker yellow if you have light-medium grey walls and lighter yellow if you have darker walls. It will give the room warmth and depth.
Pink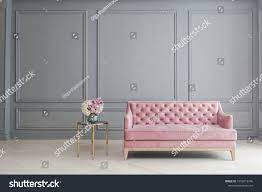 Not many people know how great pink furniture can offset grey walls. You can use bright pink, pale or champaign pink furniture with your grey walls. Pink is a bold pop of color that can transform any room with grey walls into an inviting and fun space.
When choosing pink furniture, you can use white accent pieces or other warm tones in lighter pastel shades. It helps balance all the colors in the room. To give the room a different design, you can buy period pieces and have them reupholstered in different shades of pink.
Red And Ginger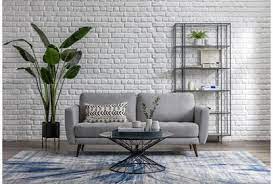 Red or ginger furniture goes great with most shades of grey. The one noticeable difference between the two colors is ginger has a little more orange. Ginger leather furniture with brown or yellow accent pieces will warm up a room with grey walls.
If you choose red, you can look for bold modern designs to add a touch of sophistication. It works well with neutral white or warm brown accent pieces.
Orange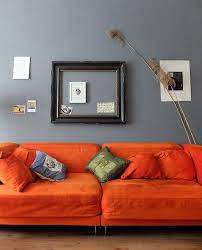 Orange furniture looks fantastic in a room with light or dark grey walls. It can tie the room together and create a cozy atmosphere. For accent pieces, you can use brown or white colors. It helps even out the color balance. This color scheme works well with modern furniture.
Brown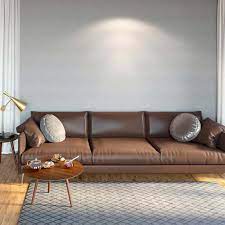 Brown is classified as a warm color as it is a dark shade of orange. Too much brown with grey will look dull and uninspired, so be sure to add a few interesting textured accent pieces in burnt orange, gold, or light yellow. The room will look stylish and put together but cozy.
What Color Furniture Goes With Warm-Toned Grey walls?
You can use cool-toned furniture when using a warm-toned grey on the walls. When the grey has a subtle brown undertone, it becomes a warm-tone color. Then this section of the post is for you. Here are the colors that go well with warm-toned grey walls.
Green
You can use emerald, sage, or olive green furniture in a room with warm-toned grey walls. When you use green furniture, you can use brown or yellow accent pieces, or if you want a cleaner look, you can use off-white accent pieces. A light yellow or brown textured rug will work just as well.
Blue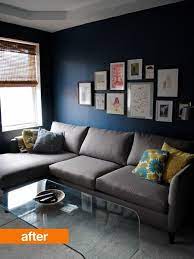 You can use bright blue-colored furniture for darker grey walls, and darker blue-colored furniture works well with light grey walls. You can add light brown, grey, or white accent pieces if you want to highlight the bold color contrast. Blue is a happy color that will liven up a dark or dull room in no time.
Purple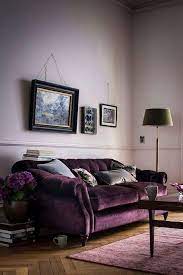 Purple might be seen as cool, but when you use vivid purple or violet purple furniture with warm-toned grey walls, there will be nothing cool about the room. Purple furniture can be offset with lighter shades of grey, off-white, and light green. These accent colors work well together and with grey walls.
Do Neutral Colors Go With Grey Walls?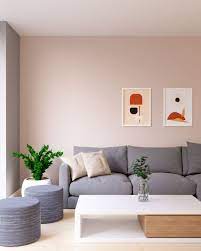 Neutral colors are those colors on the color wheel that can be used in warm or cool-toned rooms. We already looked at brown as it can be seen as either warm or neutral, while dark brown can lean more toward the cool tone side.
Other neutral colors include white, black, beige, taupe, and grey. These colors work well with grey if you use them correctly. When you use them in a monochromatic fashion, you should ensure to use accents with different textures to prevent the room from looking bland or monotonous.
You can use black furniture and offset it with beige and light grey accents. You can also use white furniture and use shades of brown and black accent pieces. The great thing about neutral shades is that you can use them on their own or add a dash of color with a chair, throw pillow, table, or even a rug, which will look fantastic.
What Is A Chameleon-Grey Colored Room?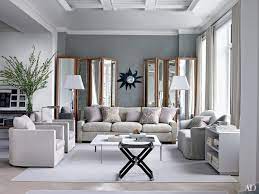 One of the popular trends that have taken off in the last few years has been to use multiple shades of grey on the walls and furniture, then use one bright accent color to give the room that pop of color and bind the room together. This trend works well if you don't want to use more than one accent color and you have many different shades of grey furniture.
Conclusion
Grey walls give you a clean slate in any room, and many colors go with grey. These colors can be used in the furniture you choose. To ensure you don't end up with a room that is overwhelming, you can use some accent pieces in complimentary colors so the colors you choose blend and balance each other out.