It may seem like no wall paint color besides beige or cream goes with dark brown furniture. Luckily, you have a variety of wall paint colors that will match your dark brown furniture.
Wall paint colors that go great with dark brown furniture include grey, beige, black, white, brown, and cream. Dark brown is a neutral color, so all primary and secondary colors can match. However, you can add some character using pink, blue, orange, fuchsia, red, and many more wall paint colors.
If you have not discovered the perfect color yet, you will surely know after going through these 18 options. Read on to see how easy it is to match any paint color with your dark brown furniture.
18 Best Wall Paint Colors That Go With Dark Brown Furniture
Dark brown furniture and décor always create a sense of warmth and tenderness, which makes it perfect for bedrooms, living rooms, or your home office. Few people are too fond of brown, but it can add an elegant touch to your home. This neutral color complements most primary and secondary colors, depending on the color scheme you have in mind.
Below is a list of 18 wall paint colors you can choose to tone with your dark brown furniture.
1. Grey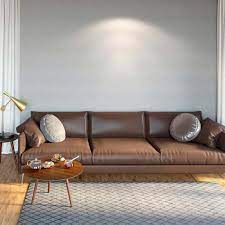 Grey is a lovely color and comes in various shades, so if you are searching for a color slightly darker than white, light grey is a close second. However, all shades of grey paired with dark brown furniture will look amazing.
It is also a neutral color like dark brown and will fit perfectly. You can brighten the room with grey while maintaining a warm, comfy, and relaxing atmosphere.
2. Cream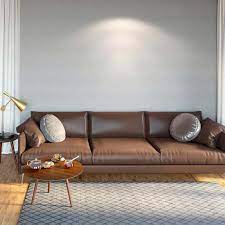 You cannot go wrong with simple cream walls. Cream is versatile, so it will fit with the décor and accessories you want to add to the room. So, if you want to play it cool and keep it to a simple color, you cannot go wrong with painting the walls cream.
Even so, there are different shades of cream, so you must keep that in mind when choosing to pair the room with dark brown furniture.
3. Blue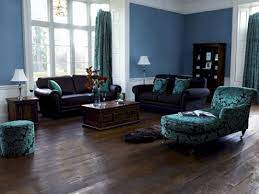 Let us talk blue. You can beautify the room with blue paint. The three options are light blue, medium blue, or dark blue. Dark blue is my favorite among these three, and somehow people can pull it off with their dark brown furniture.
Not only is it a unique option, but it creates a calming and serene ambiance. I do not suggest you go for a pastel blue. It may still fit with your dark brown furniture, but it gives the room a chilly and frigid look.
4. Light Brown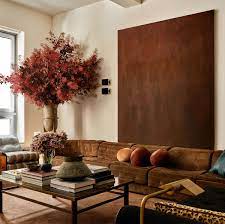 Light brown walls make the room look elegant and bohemian. You can add décor, such as vibrant paintings, potted plants, beige or cream lampshades, etc., to add a splash of color.
If it had been me, I would choose a light brown color (about two shades lighter than your dark brown furniture) as your wall painting color.
5. Dark Green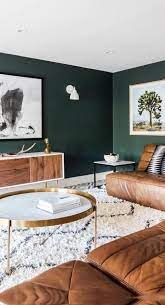 Dark green or a medium shade of green walls accompanied by dark brown furniture is the perfect combination, especially if you are a nature enthusiast.
The room will feel inviting, refreshing, and full of life. Add green throw pillows on dark brown couches or any other green décor or ornaments to make them look vibrant.
6. Peach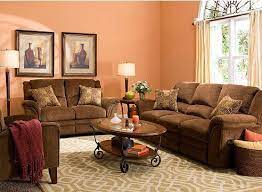 From light to vibrant, there are various hues of peach, and they all have different meanings. Lighter peach shades give off a friendly and safe atmosphere, while darker hues of peach represent pleasantness and playfulness.
If you want more depth to the room, pair a darker shade of peach with your dark brown furniture. Add a dark brown carpet and coffee table to make your room look intense and soothing.
7. Copper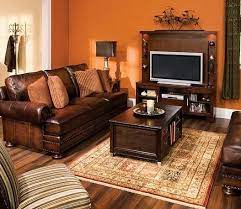 Copper is a blend of reddish brown. It is the ultimate wall color for your dark brown furniture. Copper is very popular nowadays, and interior designers cannot get enough of it! It is a unique color, especially in bedrooms, that provides warmth and tranquillity.
You can let your imagination run wild by accessorizing dark brown furniture with red, gold, brown, or other similar undertones. After decorating, the room will surely give off an atmosphere of intimacy and femininity.
8. Yellow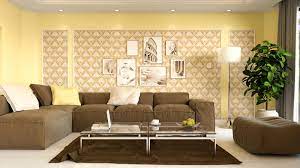 Yellow sets a warm and sunny atmosphere but can be tricky to incorporate into your home, especially if you want to paint the walls yellow. There are tons of yellow shades, so you must pay extra attention to each. Otherwise, it can ruin the entire décor of the room, and the elegant dark brown furniture would look horrible against the walls.
Yellow can be a fantastic, cheerful color to match your dark brown furniture. Mix it up with different accessories and patterns, and it might become your favorite room in the house! You have to bear in mind the undertones of the various yellow hues, e.g., corn, mustard, butter, lemon, etc., and the accessories you want to place in the room to make the dark brown furniture stand out.
9. Orange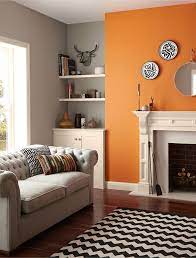 A vibrant color like orange can enhance the atmosphere of the room. If you want to be bold, try going for orange walls with dark brown furniture. There are beautiful orange hues to choose from, so you can choose one that best fits your taste and complements the dark brown furniture.
Like yellow, any shade of orange can work with dark brown furniture, but you must ensure that you incorporate it correctly. I suggest buying cream or white décor and accessories to really set the scene.
10. Black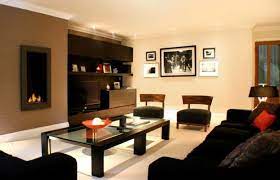 Black is an elegant color that can make a room look like a thousand bucks. Black walls can make the room look smaller, so consider the size of the room before painting the walls black and pairing them with your dark brown furniture.
If you do not want the entire room painted black, go for a black-painted accent wall and a pure white ceiling to brighten the room.
11. White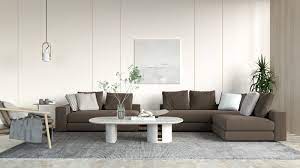 White creates a sense of peacefulness, cleanliness, and positivity. White walls and dark brown furniture make the room look more spacious.
If you place dark brown furniture in a room that does not get much sunlight, then white walls are the perfect option to illuminate the space. The color will create a feeling of depth in the room, so you can play around with as much décor and accessories as you want without the room looking cluttered.
12. Fuchsia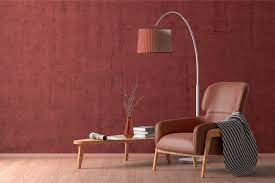 Fuchsia is a darker shade of pink and works wonderfully with dark brown, although it may not seem so initially. It is a vibrant, bright, and lively color that will turn heads when guests arrive at your home.
If you want to change the room with dark brown furniture, consider painting the walls fuchsia. If you like being over the top, then this color is definitely a winner.
13. Mint Green
Mint green always gives a vibe of relaxation, serenity, and freshness. It is such a unique color that it is not found in most homes.
I recommend placing colorful flowers around the room to enhance its elegance. Pair the color with dark brown furniture, and you will have an airy and wholesome space.
14. Red Paint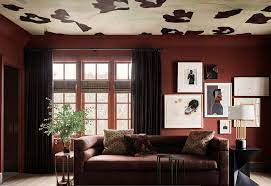 Overall, red is a pretty dark color that can make a room appear smaller. Nonetheless, the combination of red walls and dark brown furniture is charming.
To enhance the presence of the dark brown furniture, opt for a lighter shade of red, preferably burgundy hues. You can add a dash of finesse by incorporating gold accents as contrasts to the burgundy walls and dark brown furniture.
15. Turquoise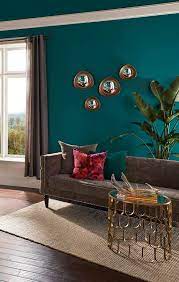 You probably did not think turquoise, a rich shade of blue, would pair well with dark brown furniture. Well, it does!
This dark brown-turquoise combination will look funky in your teenager's bedroom. It is trendy and modern and does not affect the room's space, e.g., by making it look smaller or bigger.
16. Gold Paint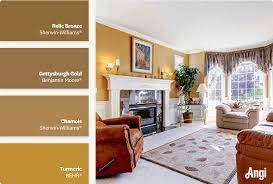 Gold walls plus dark brown furniture equals classy. Combine these two to create a glamorous living room. Gold goes so well with dark brown.
This color combination allows you to play around with various accessories. It is the best blend in any modern home, and you can add a gold lamp to match, a gold-rimmed mirror, and gold wall art.
17. Purple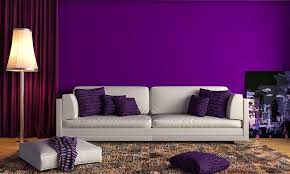 If you want to opt for purple wall paint, I suggest a lighter and delicate purple. It looks beautiful against dark brown furniture but does not let the purple walls distract you from the dark brown furniture.
Add wall art, lovely dark purple flowers, and other accessories to enhance dark brown furniture and make the purple walls pop. Additional colors such as white furniture can give the room a sophisticated look.
18. Teal Paint For Walls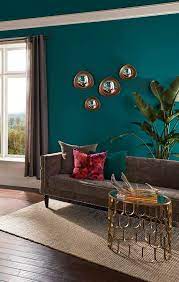 Teal is a deep blue-green color and sets a calming and serene ambiance like other blue and green hues. This goes well with dark brown furniture.
You can paint the walls teal in your bedroom, living room, or any part of the house you want to place dark brown furniture. It brightens the space, and you can use other colors for décor. Teal walls, dark brown furniture, and white décor/furniture are a grand color scheme.
Conclusion
You are probably eager to test which wall painting colors you can match with your new dark brown furniture. Since dark brown is a neutral color, anything goes.
Gold, teal, copper, light brown, dark green, and red are my personal favorites! Why not let go of the plain and simple and go for the bright and bold?