The purpose of a table is to provide an area that can be used to place items on. This could include food, drinks, books, or any number of other objects. 
There are many different types of tables available for use in your home. Some have multiple uses, and others are designed for specific purposes. 
The following article will outline some common types that you may want to consider when shopping around for the perfect piece to fill your space.
1. Coffee Table
A coffee table is generally used in a living room or seating area and placed in front of the couch. These tables have a lower height and are designed to be used as an end table rather than for supporting items. Coffee tables are generally rectangular but can also be round or square depending on the style you prefer.
2. Dining Table
A dining table is a piece of furniture that people use when eating dinner with others in a home, restaurant, or other location. These tables can be very large and may have built-in seating which can accommodate up to 12 people at a time. Dining tables are designed to support heavy objects without warping or causing the surface to become uneven.
3. Serving Table
A serving table is used when placing food on plates for guests or patrons who are dining with you in your home. These tables are usually smaller and easier to clean than a dining room table so as not to waste space on a large surface that may only be used occasionally.
4. End Table
An end table is a small piece of furniture that can be placed near the sofa or chair in your living room or seating area. The purpose of an end table is to provide a place to set objects such as books, water glasses, remotes, phones, etc..
5. Office Desk
An office desk or worktable is designed for the use of individuals working from home or in an office environment at desks inside buildings rather than for using outdoors under tents while camping/hiking. Office desks have drawers, compartments, and other features that make it easier to store items and access them when needed.
6. Workbench
A workbench or worktable is a type of table with tools attached to the top used for carpentry jobs such as sanding, cutting wood, drilling holes, etc.. These tables usually have surfaces that are larger than an office desk but smaller than a dining room table. They may also include accessories such as drawers built into the unit that can be pulled out so as not to get in the way while working on a project.
7. Game Table
A game table is designed specifically for board games, card games, puzzles, or other activities that require more space than what could be provided by a coffee table or end table. These tables tend to be quite small in size and can include features such as a cup holder, storage compartments, etc..
8. Dessert Table / Buffet Table
A dessert table or buffet table is used when displaying food items to guests at a social gathering or party. This type of furniture usually has multiple shelves and drawers for storing all the items needed to place out finger foods, desserts, snacks, etc. A dessert table will generally have a hinged top with doors that can be closed once all the food has been placed on the surface so as not to lose any items while the party is taking place.
9. Side Table
A side table is used for placing objects near chairs in the living room, bedroom, or seating area. The purpose of a side table is to provide a place to set items such as books, water glasses, remotes, phones, etc.
10. Mobile Table
A mobile table is a piece of furniture that can be moved from one location to the next but does not require any tools for assembly and disassembly. These tables are often used as portable coffee tables in homes where people regularly move between rooms throughout the day and need something on which to rest their drinks during split-second stops at various locations around the house.
11. Accent Table
An accent table is a type of furniture that can be placed in the home near seating areas or around the coffee table so as to not clutter up large surface areas. These tables are usually quite small and may only have room for one drink or snack plate per guest.
12. Console Table
A console table is a piece of furniture that can be placed along walls and in hallways so as to add a decorative touch to the space. Console tables are most commonly designed with multiple shelves, drawers, or display compartments for holding smaller items such as family photos, statues, etc..
13. Media Table
A media table is a type of table designed to hold electronic devices including televisions and DVD/CD players. These tables have built-in storage units for storing DVDs, CDs, remotes, games/cards/books, etc. Some models are even equipped with cooling fans for keeping drinks cool while watching movies on hot summer days.
14. Folding Table
A folding table is exactly what one might think it is: a table that folds up. These tables are portable and can be used to add extra seating space when hosting parties or other social events, camping, tailgating, etc. They are also often used outdoors during barbecues where they will not get in the way of people moving around the home.
Folding tables have surfaces made from materials such as plastic and metal which make them durable but heavy enough so that they do not easily blow over in strong winds. If one plans on using a folding table outside then it is recommended to place a heavy object on top of it to keep it from blowing away during lawn games or picnics in windy conditions.
15. Picnic Table
A picnic table is a type of table specifically designed so that items can be set on top while sitting down. Picnic tables are usually quite long and have several benches around the edges for seating purposes. The purpose of a picnic table is to provide a place to sit down with friends, family, or coworkers while eating outside in public parks, along hiking/biking trails, etc.
Suitable for outdoor use only due to the fact that they aren't waterproof.
16. Outdoor Dining Table
An outdoor dining table is a piece of furniture used specifically for hosting dinner parties outdoors. These tables tend to be quite large in size with seating space on both sides so as to accommodate families or groups up to 8 people comfortably. Outdoor dining tables are often made from metal or wood and come with chairs that have cushioned seats.
17. C-table
A C table, or crescent table, is a piece of furniture that consists of two halves connected together at the top. These tables are usually part of an outdoor patio set which also includes chairs and other accessories for entertaining purposes. The purpose of a C table is to provide plenty of seating space while still leaving room for guests to walk around the edges without bumping into one another.
18. Utility Table
A utility table is a piece of furniture used specifically in kitchens to hold items such as pots/pans, clean dishes, cookbooks, or ingredients. A utility table can be any size so long as it is sturdy and has enough surface area on which to stack objects neatly. This type of table may have legs or it may be a tabletop on legs that is used with or without a tray.
19. End Table
An end table is a piece of furniture placed at the end(s) of sofas and other seating areas so as to hold drinks, snacks, remotes, keys, etc.. These tables are also commonly used in bedrooms for storing items such as books/magazines/mail/jewelry/makeup, etc.. Wooden and glass tops are common for this type of table due to their durability and resistance to stains caused by liquids (coffee/tea/pop).
20. Drink Table
A drink table is a piece of furniture that has been specifically designed to hold drinks for easy access. These tables are often found in pubs/bars, lounges, and various other public areas where customers like to take their time while consuming alcoholic beverages. A drink table consists of several shelves from the top down so that different types of drinks can be placed on them at one time. Usually located near the bar inside the establishment they serve.
21. Server Table
A server table is a piece of furniture used mainly by waiters/waitresses during service in restaurants or bars. This type of large tray table can typically hold up to 20 glasses stacked neatly on top, along with plates filled with food, pitchers of water/soda, and other bar accessories.
22. Couch Table
A couch table is a low-level coffee table designed specifically for placement next to couches and armchairs so that drinks can be easily accessed when sitting down. These types of tables are also often used to display knick-knacks, books/magazines/folders, or other accessories that make a room homier. These tables usually have removable trays for easy cleaning and maintenance.
23. Bunching Table (a.k.a. stacking or nesting tables)
A bunching table, or stacking/nesting table, is a collection of similar-sized tables that can be stacked on top of each other when not in use so as to save space. These types of tables are often used in restaurants and hotels during peak hours when service staff needs an additional workspace to complete their duties.
24. Computer Desk And Laptop Table
A computer desk (sometimes called a CPU stand) is a piece of furniture that houses your home desktop or laptop computer system. The primary reason for having one of these pieces of furniture is to provide you with enough open surface area so as to use your computer without the wires/cables getting in the way. With this type of table, it's possible to place paperwork, documents, projection screens/projectors, and other office accessories right next to your computer.
25. Drum Table
A drum table is a piece of furniture that is designed primarily for use in an office setting. It generally consists of one very large surface area and may also be able to rotate so as to provide easy access from all sides. Most desks are made out of solid wood, but some (especially folding models) are made with metal frames with plastic or glass surfaces for durability purposes.
26. Extending Table
An extending table is a type of dining/home furniture consisting of two individual tables placed side by side when not in use that can be extended together into one table when needed to seat more people. These types of tables allow you to save space when entertaining during holidays, special occasions, or other gatherings/events where a lot of people need to sit down to eat/ drink at the same time.
27. Foyer Tables
A foyer table is a piece of furniture which serves the purpose of organizing incoming/outgoing mail, packages, keys, etc.. These tables are commonly placed in entryways so that no matter what part of the house you enter from (front door, back door, garage), it's easy to take care of all related business without having to walk over or around any clutter.
28. Ottoman Table
An ottoman table is a low-level table consisting of one or more curved, round surfaces that can be used to rest the feet when sitting down. Ottoman tables are most often seen in living rooms, family room areas as they provide space for people to put their feet up and relax instead of using the chairs/ couches provided. They're also commonly placed next to sofas or armchairs to accommodate remote controls for TV watching and other media purposes.
29. Pedestal Table
A pedestal table is a type of coffee table which consists of only one large surface area with no legs underneath it for support (hence pedestal). These types of tables allow you to place them on any flat surface and still have plenty of space underneath for drinks, footrests, or any other accessories. The most common types of pedestal tables used in homes are smaller ones used to place lamps and various pieces of decoration on top while larger ones are often found in restaurants/ hotels to hold food dishes and drinks for large gatherings.
30. Poker Table
Poker tables (a.k.a. card tables) are specifically designed with a single-piece wooden board that has the same length as two regular size dining room tables put together side by side with an optional rim around its edge which holds the cards securely so they don't fall off during use. These types of tables are commonly used during tournaments and league events so as to provide players with enough space to play their cards without having them interfere with each other.
31. Kitchen Table
A kitchen table (also known as a dining table) is one of the most vital pieces of furniture you will have in your home. This piece provides the desired setting for families to come together during dinner/ lunch so as to enjoy each other's company and talk over various topics that affect them on a daily basis. It also serves the purpose of being an optional eating surface during breakfast and snack time, eliminating the need to use up counter space or purchasing additional smaller tables for this simple task.
32. Bedside Table (a.k.a. Nightstand)
A bedside table/ nightstand is a small piece of furniture that consists of two small drawers and one wide surface which provides the perfect setting for alarm clocks, picture frames with loved ones' pictures inside, reading materials, etc. Most often this type of table is used in bedrooms as it allows you to have all these items within arms reach whenever you sit up during the night or early morning hours.
33. Bathroom Table
Bathroom tables are specifically designed models meant to be placed next to toilets so as to provide those using them a space where they can put their personal belongings (towels, toiletries, magazine subscriptions). These types of tables are often made out of plastic or metal so as to ensure easy clean up and also to prevent any rusting from occurring.
34. Game Table
A game table is a specialized coffee table designed to be used with playing games so as to provide the perfect surface to place cards/ dice on without damaging them or your furniture at the same time. Game tables tend to come in small shapes (rectangular, squares) so as not to take up too much space but they can be made into any shape imaginable depending upon which games you'd like it to be used for.
35. Credenza Table
Credenzas are specialized dresser tables which have drawers and an optional surface area at their disposal. These types of tables are often placed in dining rooms or family rooms as they provide a chance to store items that aren't needed on a day-to-day basis (decorative plates, extra bowls/ glasses, cookbooks you hardly use) but might be needed for future gatherings or dinner parties that occur once every few months.
36. Pub Table
A pub table is a rectangular-shaped restaurant/ bar table meant to be the same size as those at a neighboring booth or chair, so that patrons of the pub can obtain a more social experience when sitting down for dinner or having drinks with friends. Due to their large and sturdy nature (nothing less than 3' long x 2' wide) they are often used in communal places such as pool halls and bowling alleys where space isn't an issue but comfort is everything.
37. Patio Table
Patio tables are designed to be placed out on the patio in order for you to enjoy your meals and drinks with your entire family, especially during those balmy summer nights. Due to their weather-proof nature (made out of either wood or aluminum) they can withstand even the harshest elements mother nature has to offer so that you don't have to rush inside after finishing every meal just so it doesn't get destroyed by a sudden burst of rain, snowfall, etc.
38. Double Pedestal Table
A double pedestal table is one where all four legs come together into a single base which then splits up again into two separate bases positioned a couple inches apart from each other. These types of tables are often used in dining rooms as they provide a surface large enough to accommodate a larger number of guests yet are more elegant and less bulky than other models available on the market (such as round tables).
39. Industrial Table
Industrial furniture refers to those pieces made out of exposed brick, steel, wood or metal which give off an industrial-like vibe due to their simple, flat coloring and lack of finesse. The reason these types of designs became famous was because they were needed for the Industrial Revolution which saw its peak during the mid 19th century when factories started popping up all across America & Europe and new forms of furnishings that could withstand such harsh conditions were needed.
40. Live Edge Table
A live edge table is one where the tree trunk that the table is made out of still maintains its bark and shape, unlike regular tables where the wood has been cut down to a uniform finish. While these types of tables were often used as centerpieces for large dining rooms, they are nowadays more commonly found in smaller sized homes as accent pieces meant to bring a calming atmosphere wherever it's placed within the home.
41. Work Table
Work tables come in all shapes and sizes depending on what type of work you need it for. However, they are most commonly seen as flat surfaces with a large amount of drawers and/or compartments at their disposal which can be used for storing tools & extra equipment that might not be needed every day but would be useful to have around the house (such as a table saw) or for when guests expected over unexpectedly.
42. Conference Table
A conference table is a long, rectangular-shaped piece of furniture used to seat multiple people for conferences, meetings and/or roundtable discussions. They are often found in boardrooms & large offices and can accommodate anywhere between 8-12 people at once without much effort. If you're looking for an alternative use of such a table then you might want to consider getting one as they can be great for extra guests when hosting dinner parties or serving food during larger gatherings.
43. Farm Table
Farm tables were the main pieces of furniture within the homes on farms across rural America dating back to colonial days until the late 1940s. Molded out of either unfinished wood or leftover tree trunks (as was available at the time), these tables were the key pieces of furniture that turned a small house into a functional home.
44. Computer Table
Computer tables are the large, flat workstations found within offices & cubicles which allow you to comfortably sit for hours on end as you tend to your daily tasks. Featuring a small drawer that can be used for holding pens and paper clips, a larger drawer underneath where documents etc. can be placed and finally an adjustable lamp so the user won't have to worry about straining their eyes when trying to see what they're doing during those late night sessions at work.
45. Square or Rectangle Table
These are the most common forms of tables you're going to find in your local furniture store as they've been used for ages now and are easier to obtain in terms of cost, availability & flexibility. They can come in a range of different sizes from small coffee table sized pieces that can seat only one or two people at best, all the way up to massive banquet-sized models which look great when placed within large halls, meeting rooms etc.
46. Semi-Circular Table
Semi-circular tables were made popular during the baroque period (1600s -1700s) where large ballrooms would require extra seating space if their events exceeded 250 guests so they could choose either oval shaped tables or circular ones. They are now mostly reserved for places such as meeting rooms, conference centers, ballrooms and the like but they can also be seen in large dining rooms if you're looking to place a table at the center of your home which is going to take up an extra 60-100 square feet or so of floor space.
47. Octagon Table
That octagons are used more frequently than other shapes with tables isn't actually that surprising considering it's one of the most balanced geometric figures you can create. The shape lends itself well to those who want a unique design piece in their home without straying too far away from what we generally consider "classic" forms of furniture design, much like hexagons, decagons & other such figures.
48. Polygon Table
Polygons are generally reserved for larger tables as the complex shapes can end up taking up significantly more space than a standard square or rectangle would. If you're planning on buying one for your home then make sure to measure out the dimensions of whatever hall / room it is going to end up in before doing so, otherwise you may be left with little room to move around once it's set-up.
49. Shabby Chic Table
Shabby chic table is the general term used to describe a piece of furniture featuring natural wood found in its raw, unfinished state while also displaying small imperfections. The style lends itself well to rustic-themed homes and comes with a variety of different table types ranging from desks & railed bookcases all the way up to cocktail tables that are often placed within living rooms & dining rooms.
50. Mid-Century Modern Table
Also known as contemporary or modern, mid-century design is a style native to the 20th century with its roots in Western Europe and America although it's now been used around much of the world. As far as furniture goes you'll see influences from Art Deco & Asian designs mixed within an overall sleek, minimalistic look which comes complete with lots of clean lines, smooth surfaces & curves where they count.
51. Scandinavian Table
Scandinavian furniture design is one of those styles which can be more accurately described as a region rather than an era seeing as it has its beginnings all the way back in the 1100s and continues to be used today. Mixing sleek lines & clean surfaces with heavy influences from ancient Greek, Viking & Celtic designs results in furniture that looks great in just about any setting or home.
52. Craftsman Table
If you're looking for an overall cohesive look then going with craftsmans rustic-themed table won't let you down if you have a large budget to work with. It generally comes dressed in natural wood and brown tones, even earthy red hues are sometimes thrown into the mix depending on the exact piece you're looking at. As far as styles go it can be used within just about any room thanks to its relaxed, laid-back vibe but one of its most common draws is the way it blends into smaller apartment settings with ease.
53. Rustic Table
If you want a table that looks like it's been sitting outside your home for years then rustic furniture is going to be right up your alley. The style often comes with various worn down features such as exposed wood, cracks and chips in paint or staining and even the occasional burnt mark here & there which gives off an overall "left abandoned for many years while being exposed to nature" kind of vibe. That said if you don't want a table with obvious damage then be sure to check out other styles of rustic furniture available.
54. Neoclassical Table
For those who like the look of what was seen during the time period known as neoclassicism but without all the pomp & circumstance that came with it, neoclassical tables are right up your alley. Finishes may vary widely depending on individual pieces but they're usually either painted in strong primary colors or left natural wood while legs will typically bend from thick, sturdy rods which keep things nice & sturdy for years to come.
55. Wood Veneer Tables
Another term that refers to the process of applying thin sheets of wood known as veneers over an existing surface is "wood veneer." It can refer to any type of product but in the context of tables it refers to end tables & dining room tables which are usually covered with a single piece. Despite their thinner nature veneered surfaces tend to be quite durable due to having their strength increased through the number of layers used and reinforced by being fused together using strong adhesives.
56. Laminate Tables
Table tops that are created using a strong type of paper known as "laminate" are referred to as "laminate tables." The material is extremely porous, making it easy to clean & stain resistant so if you have children or pets it won't matter if they make messes. Laminate comes in many different textures and colors thanks in large part to its overall versatility which also makes it possible to imitate just about any type of wood grain imaginable.
57. Marble Tables
A lot of people think marble tables are fragile & breakable but this isn't actually the case. On the contrary, marble is one of the most durable materials used in furniture today although it does have a reputation for being slightly more porous than stronger types of stone. It is possible to stain marble as well but if you take good care of your table then stains won't be an issue at all.
58. Glass Tables
Glass tables are much heavier on looks than they are on practicality seeing as they can be easily damaged through various means from picking up heavy objects to putting the wrong type of liquid down on top (ex: water). Some glass tables will come with a protective layer already applied which helps reduce chances for damage but not many.
59. Solid Wood Tables
This is the type of table you find in your grandma's living room or at the local Sunday school. A 99.9% guarantee that it will be an heirloom passed down for generations to come due to its heavy wood construction, wide selection of designs & ornate carvings. If you want a classic style then solid wood tables are going to fit your needs perfectly.
60. Barrel Top Tables
Nothing fancy here as they're simply small tables with their tops shaped like barrels which makes them both versatile and comfortable enough to rest drinks/food on without having to worry about spilling anything thanks in large part (if not completely) to the lip around the edge preventing spills from running off onto the floor below.
61. Metal Tables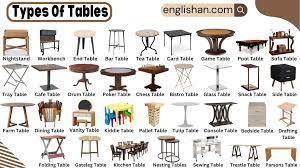 Metal tables are generally made using wrought iron or a type of metal referred to as "steel." The material is extremely sturdy compared to wood & marble but not quite as versatile when it comes to design options. It is possible to find some metal tables with ornate materials attached although most tend to have a more minimalist look about them which may not be for everyone depending on your personal tastes.
Table Functions
Aesthetics
The aesthetics of your table is important regardless of whether you're buying a table to use for decoration or as a work surface. Aesthetics is in reference to the way your table makes you feel when you look at it in terms of how "pleasing" it is. While this doesn't sound like something that would be important, believe me — it is.
Functionality
When looking for tables that are going to serve some sort of purpose beyond simply being there then functionality should be your #1 priority since nothing else matters if the table isn't functional. Think about what exactly will be using the table and do some research on what details you might want to pay attention too (ex: sturdiness, weight capacity, ergonomics, etc.) so the end result will be what you want it to be.
Conclusion
The type of table you choose for your home depends on many factors, including aesthetics and functionality. Keep in mind that the most important thing is what you need it to do (ex: a work surface vs decoration). Whichever table works best for your needs will make all the difference in how happy you are with its appearance.