Having a dedicated outdoor space where you can sit back to relax and be among nature is one of the best things about being a homeowner.
There are dozens of ways you can decorate your backyard to create a private oasis getaway.
We've put together this list of backyard patio ideas to inspire you with different ways to give your outdoor living space a complete makeover.
You can easily transform your outdoor space into a secluded escape using any of these backyard ideas.
There's an idea for all budgets, styles, and backyard sizes, including additional features like fountains, pools, covered and uncovered patios, and small fish ponds.
Check out our inspiring backyard patio ideas now.
#1. Grotto with a Pergola and Climbing Vines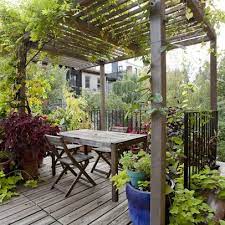 A pergola is one of the easiest decorations you can use for your backyard patio. And when you plant beautiful climbing vines, you can have a natural curtain and shade that wows you with its delectable smell.
The only downside about pergolas is that because the roof is a series of open beams, there is no solid roof to keep you dry if you're outside during a random rain shower. And you'll need to use patience to get the full effect of full-grown vines.
#2. Natural with Reed Grass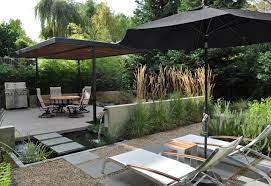 Building a covering for your patio is a great way to redecorate your backyard. Rather than picking up a store-bought set, creating a natural patio covering helps you bond more with nature.
You can create a DIY frame with natural materials like branches, beams, or bundles of reeds. Once the structure is built, you can cover the surface with reed grass to form curtains that flap in the breeze.
Adding wood benches covered with natural cushions can complete the perfect place to relax and enjoy the outdoors in spring, summer, or fall.
#3. Natural Light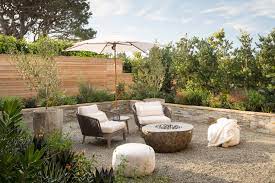 If you truly enjoy the outdoors, consider creating a backyard patio where you're half covered and when there's half left open to let in natural light. The half that's sheltered will keep your furniture dry and clear of acorns, falling leaves, and sun damage.
And the half that's not covered will allow you to bask in the sunlight while giving you clear views, unobstructed from overhead coverage.
#4. Standalone Patio Structure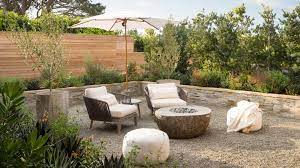 If you're looking for a simple backyard patio but don't have an attached, covered patio, your best option is to use a standalone patio structure.
You can find various styles using wood, metal, or plastic material combinations. And some models have curtains that you can tie up for open space or untie when you want privacy.
#5. Straight Lines and Smooth Materials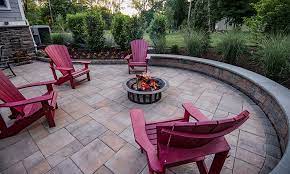 If you're looking for a backyard patio idea that incorporates design elements that give your space a modern feel, choose pieces that consist of smooth materials and furniture with straight, sleek lines.
Neutral tone patio pavers look more modern than wood for the flooring. And you can change out the cushions and pillows on your outdoor furniture to decorate with the seasons or to get a new look.
#6. Tuscan Feel with Brick and Wood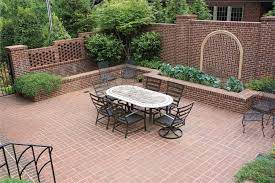 If you want to give your backyard a Tuscan-inspired design, incorporate many wood and brick materials. This idea is a bit more expensive due to the elaborate design, but it's perfect for a covered backyard patio.
Add dark wood beams to the ceiling, a natural stone-face or brick fireplace, and corner half walls, plus around the base of the grill, and decorate with earthy tones and cast iron accents. And if you want to go true Tuscan, you can also indulge in installing a pizza oven.
#7. Fabric Cover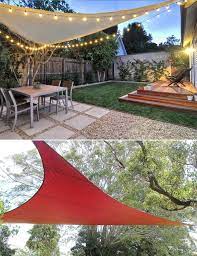 If you're looking for remodeling ideas while you have to be money-conscious, nothing is more affordable than using a simple fabric cover and bare wood or metal frame.
Since you'll be using your cover outdoors, you'll want to pick one that's heavy and water-resistant.
Heavier materials will experience less flapping in the wind (and less damage). A solid neutral-colored shade works best. If you're looking for an easy backyard patio DIY idea, this one's for you.
#8. Modern Patio Paradise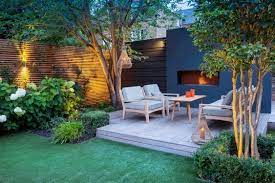 You can make your backyard patio into a modern paradise when you have ample space and an extensive remodeling budget. Start by giving your plain patio a facelift using bricks and stained or painted concrete.
Then add tons of greenery to add pops of color and floral fragrance, both in large planters and planted around the patio. You can also position a dining table with a large umbrella for a place to eat meals.
And then arrange some comfortable chairs around a fire pit with cozy cushions and rugs with matching colors. You can even incorporate a raised koi pond or water feature for extra relaxation.
#9. UV Protective Open-Sky Cover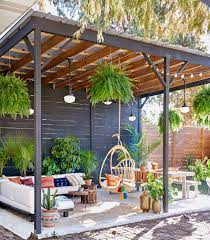 You can still enjoy the views of the sun without the dangers of ultraviolet rays by using a UV protective open-sky cover. In addition, adding straight line furniture, wood, and bright color accents can make your backyard space inviting and attractive.
Hang up some sheer curtains around the patio to block rays from the sun on all sides, so you're comfortable no matter what time of day.
#10. Gazebo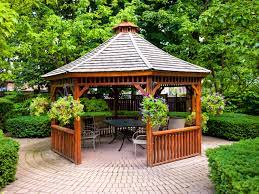 Gazebos are always fantastic additions to backyard patios, giving you a shaded cover to protect you from the brutal sun overhead. And the open-sided design provides plenty of airflows to keep you from overheating.
And because there's a roof, you can also install a ceiling fan for additional cooling and hang a few strings of twinkling lights. Then you can put Adirondack chairs, a picnic table or dining set, benches, an outdoor couch, and a few small tables underneath the gazebo.
#11. Giant Patio Umbrella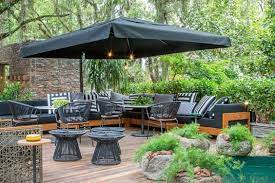 A giant patio umbrella is a helpful solution for when you don't want permanent patio decor. You can use your umbrella to provide shade for your chairs or a dining area. And it allows you to adjust the shade in response to the height of your guests or the angle of the sun.
If you want to cover a large area, you can add multiple umbrellas. And because of the design, you can fold them up when you're not using them, which gives you an unobscured view of your property. And umbrellas allow you to sit outdoors even if it's raining, without getting wet. Finally, you can relocate an umbrella around your yard as needed, increasing versatility.
#12. Seasonal Canopy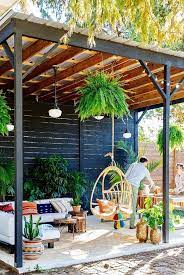 Seasonal canopies are an excellent solution for backyard patios in locations with a lot of wind or cold winters. These canopies have thicker fabric that will block the elements while you're trying to enjoy some time outdoors.
Neutral colored fabrics for the canopy and furniture keep your space calm and inviting. And a few well-placed lights and some cozy furniture placed around a fire pit make the perfect place to enjoy a hot cup of cocoa and some marshmallows.
#13. Palapa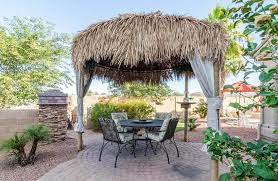 If you want your backyard patio to feel like a tropical escape, a palapa can be an instant transformation. For those of you wondering what a palapa is, think of a thatched roof "umbrella."
Enhance the coastal feel of your backyard by adding some tropical (or semi-tropical) plants, wicker furniture, tiki torches, and bright colors. Palapas are also excellent covers for hot tubs.
#14. Poolside Patio with Pergola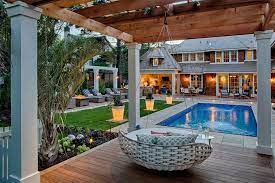 Pergolas are a fantastic addition to backyard patios built around a pool. You get a break from the brutal sun's rays while still getting the benefits of wind flow.
You can add some comfortable chairs or benches with a few tables or a dining set for a place to rest after swimming. And some tiki torches or lanterns provide accent lighting for swimming or hanging out around the pool at night.
#15. Wood Beam Awning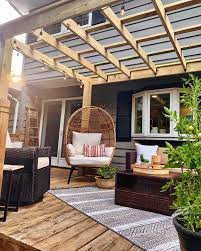 If you're looking for a simple backyard patio idea that doesn't require a lot of money, materials, or labor, a wood beam awning is your perfect mate.
Building an awning can be a breeze using sturdy wood beams and a corner of the house. But you can add additional pillars if you want to build out the shelter. Concrete posts add support and style, while red tiles add a touch of luxury while keeping you protected from the sun and rain.
#16. Multi-Layered Cover
Multi-layered covers give your backyard patio a unique textured look due to three layers of various materials overhead.
You'll start with a traditional wood beam pergola or structure, giving your patio a rustic feel.
Then add fabric squares of different colors for contrast and finish the look with lighting fixtures or twinkle lights. The final result is a backyard patio with various decor elements.
#17. Light Cover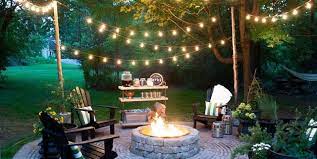 Another excellent and inexpensive backyard patio decorative idea is to hang strands of lights overhead to create a light cover. This simple design idea is easy enough for anyone to DIY and doesn't cost much money to build.
There are no rules for your design. You can use white or multi-colored light strands, but be sure they're outdoor lights – LED bulbs can give the most energy efficiency and savings. Using Shepherd's hooks, trees, or post, you can hang strands of lights across the patio in simple lines, crosses, swoop, or a woven pattern.
#18. Pagoda-Style Rooftops
A Pagoda-style patio covering can give your backyard unique Asain-inspired touches for a one-of-a-kind outdoor sitting area. You can use multiple types of materials to achieve the look, with the most common material being red tiles for the roofing.
Other decor accents that can work with Pagoda patios include Asian statuaries, a zen garden, and tabletop bonsai trees. You can also go with fountains, a koi pond, and a rock garden if you have the extra space.
#19. Shade Sails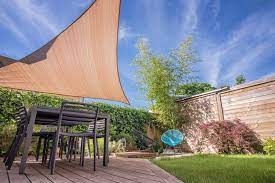 Shade sails are another excellent choice for providing shade and comfort for backyard patios while giving your space a modern, casual feel.
No matter the size of your patio, you can use one or more shade sails. All you need are a few poles from which to hang the sails.
#20. Outdoor Living Room with a Permanent Roof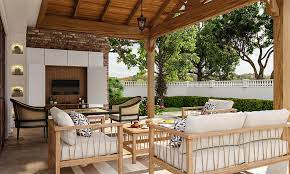 If you have a patio with a permanent roof built against your house, you're in the perfect position to create an outdoor living room in your backyard. You can enjoy the outdoors while enclosed in a patio.
Backyard patios with a roof give you the perfect place to indulge in your hobbies, whether you're looking for a quiet place to knit, read (or write) a book, paint, or stargazing. It's also the best place for entertaining guests and family when you add some comfortable seating and soft rugs and lighting.
#21. Lovely Lattice Patio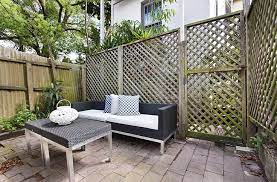 You can also use a lovely lattice awning for your backyard patio. This design looks similar to a pergola, extending from three corners of the house and a wood beam adding support for the wooden beams.
Rather than leaving the design open (a pergola), you can place latticework on top to serve as a stylish roof. A traditional lattice, like what is commonly used for flower arbors, can be one option, but it does have holes that won't block sun or rain. But if you want the most protection, you'll want to use a shading lattice instead.
#22. Patio with Fire Pit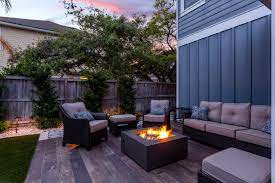 There's no better way to enjoy the outdoors during the crisp coolness of spring and fall nights than cozying up next to a fire pit. You can build a permanent pit using brick or stone or buy a decorative metal fire pit that's easy to move around your patio.
Fire pits provide the perfect place for get-togethers to enjoy S'mores, adult beverages, hot cocoa, or dinner under the stars when the weather is brisk. Arrange furniture around the pit for a social circle, using benches, chairs, or large boulders.
Conclusion
Giving your backyard patio a makeover can make the time you spend outdoors more relaxing and comfortable. So whether you're on a tight budget and need a simple DIY solution, or you have the funds, and you want a tropical paradise escape, one of these backyard patio ideas is sure to give you the inspiration you need.