What is more important than a watertight house? Roofing materials not only keep your home dry, but they also insulate against heat loss, as well as protecting the structure. Plus, it has to look good too.
With that in mind, we take a look at 18 different types of roofing to give you the facts about how good they are and why you should use them.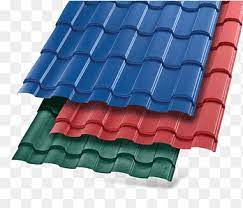 1. Rolled Roofing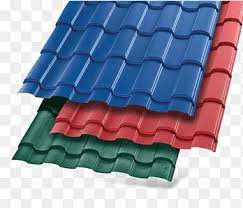 If you want a roof that's quick to install and costs a fraction of other types, rolled roofing is the answer. It works best on low-slope residential and industrial roofs, as well as outbuildings and sheds.
Typically, it comes in long rolls of asphalt and mineral impregnated material with a granular top. Each roll covers about 100 square feet of space and comes in 3-foot strips.
If you are less worried about how the roof looks and more concerned with costs, rolled roofing is an excellent solution. And thanks to the speed it lays, you can cover large areas in no time. It costs between $2 and £3 per square foot to install.
You can either torch-blow it into position or use roofing nails. The downside is longevity. It lasts about 10 years before you need to replace it.
2. Built-Up Roofing (BUR)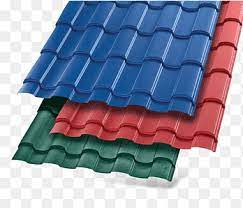 Built-up roofing is a tried and tested roofing method for buildings with no or very low pitches. BUR systems work by applying several layers of roof felt impregnated with asphalt. The layers are applied in overlapping layers, using heat to seal them in place.
BUR is applied in two to four layers, with a final topping of crushed stone embedded in hot tar to seal the roof against the elements.
Expect to pay between £3 and $6 per square foot, but the good news is it lasts on average between 20 and 30 years.
3. Membrane Roofing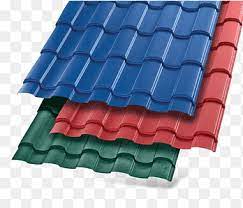 Membrane roofing is another ideal low-pitch option. Membranes come in several varieties, including:
Neoprene (polychloroprene).
EPDM (Ethylene propylene diene monomer).
PVC (polyvinyl chloride).
Polymer-modified bitumens.
The standout synthetic roofing material is EPDM, which is often called "rubber roofing." It is similar to rolled roofing because it comes in large sheets with limited seams to reduce water ingress.
If properly maintained, you should get 20 to 30 years of useful life out of membrane roofing; plus, it costs between $4 and $6 per square foot, so it's excellent value for money.
4. Asphalt Composite Shingles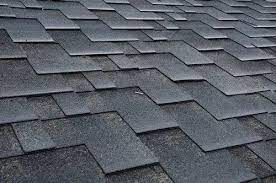 Asphalt composite shingles are the nation's favorite type of roof covering. More homes have this in the USA than any other variety.
It consists of asphalt and mineral granules topped on a fiberglass base, and they are an excellent all-round roofing option. Because each shingle is applied individually, it makes repairs easier as you only need to replace the damaged ones rather than the entire roof.
These shingles are also flexible to accommodate your building's expansion and retraction movements.
Costs vary from $2 to $4 per square foot installed, and can last as long as 15 to 30 years if maintained.  
5. Standing Seam Metal Roofing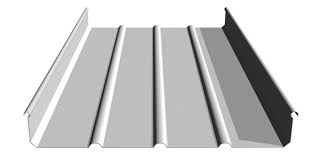 This is the most common type of metal roof. It gets its name from the aluminum or steel sheets that meet in raised seams to interlock and keep the rain out.
If you live in an area that gets significant snowfall, this is the roof to choose, thanks to its strength and ability to repel water. These roofs are also fireproof, making them ideal for buildings in areas of high forest fire risk.
Metal roofs require specialist fitters, so check with your local experts to see if they have the know-how to perform an installation. Expect to pay between $6 and $12 per square foot installed.
The great news is these metal roofs last up to 75 years, so they are worth every nickel and dime; plus, when it needs replacing, you can recycle the old sheets.
6. Metal Shingles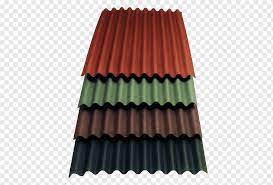 If you want all the advantages of a standing seam metal roof without the appearance, metal shingles are an ideal solution.
They come in steel or aluminum shingles and are pressed into shape and then finished with a baked-on coating to protect them against the elements.
These tiles can replicate most roofing materials, from metal, clay tile, asphalt shingles, wooden shakes, and even slate. If you care about the appearance of your roof, metal shingles are the best choice.
These shingles last between 30 and 50 years and cost around $7 to $10 per square foot installed. 50 years for such a low outlay is incredible value for money.
7. Metal Shakes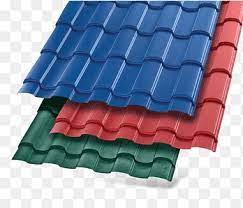 Metal shakes are similar to metal shingles in that they are pressed and mineral or baked-on coated to give the maximum protection to the material. They also work well in areas of high fire risk and heavy snowfall.
They are installed individually, making it easier to perform roof repairs, and they last between 30 and 50 years. The costs are similar too, ranging from $7 and $10 per square foot installed.
8. Wood Shingles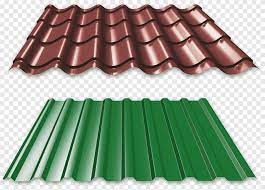 If you want your roof to scream quality and impact, wooden shingles deliver. It's the reason why you often see them installed on luxury homes. The cedar or redwood shingles are thin wedges of wood, produced using precise techniques.
While they may look good, it's fair to say they are expensive, ranging between $5 and $10 per square foot installed.
Also, they have a relatively short life if you live in a damp climate. Here, they last on average 20 years, but if you live in a dry climate like California, that leaps to 60 years.
This type of roofing material is unsuitable for those living in areas where heavy snowfall is common or forest fires are a risk.
9. Wood Shakes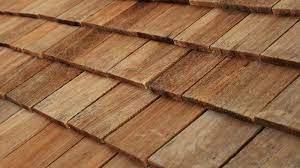 Wood shakes share all the qualities of wood shingles except for a few crucial differences. Shakes are less refined but thicker, made from split wood with a rougher surface.
The thickness of the material makes them better at withstanding the elements. They look as good as wood shingles but last a bit longer.
Longevity comes at an increased cost, with shakes costing around $7 to $12 per square foot installed.
10. Clay Tile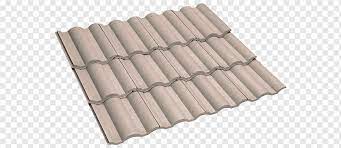 Clay is a common material in hotter climates or coastal areas with high salt content in the atmosphere. Clay is hard-wearing, thanks to the firing technique, and they are typically left unglazed to reveal that wonderful rich orange-red color.
They are constructed from earthen clay and molded in any rolled or interlocking shape. It is an expensive building material, costing between $10 to $18 per square foot installed.
You can get the less common ceramic tile instead, but this pushes your costs up to $30 per square foot installed. Once in situ, clay tiles will last well over 100 years.
11. Concrete Tile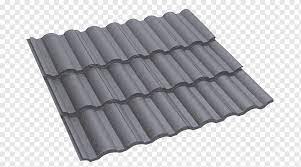 Concrete tiles are similar to clay tiles in construction and installation, but they are a much cheaper alternative. They are molded from a sand-based concrete mix and can be shaped and colored in almost every variable you can imagine.
Concrete tiles cater to low-profile roofs with a rolled clay-effect tile or wood-effect shakes.
Concrete costs about a third of clay tiles, coming in at about $10 to $12 per square foot installed. And they are heavy, so you will need to make sure your rafters and beams have the strength to take the added weight.
Expect to get about 50 years from a concrete roof before it needs replacing.
12. Slate Tile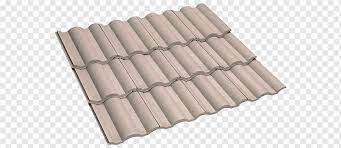 Slate is so hard-wearing, it is likely to be the only roof you will need to install. It should last between 80 and 200 years or more, so it is the perfect choice if you live in a harsh environment.
It also looks amazing, capping off any home's appearance with class and style. Slate is a good roofing material because it is easy to split into thin sheets that are impervious to the weather.
However, slate is also expensive, costing somewhere between $30 and $75 per square foot installed. Plus, finding a professional familiar with slate is tricky because so few companies use it due to the high costs.
If price is not an issue and you want a permanent roof that lasts the distance, give slate a go.
13. Slate Shingles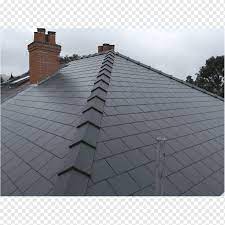 Slate shingles have the same longevity as slate tiles. They are also easier to install. A shingle roof might take a day to complete, whereas a slate tile roof is more intricate.
Slate shingles and tiles have a similar cost. Expect to pay between $30 and $75 per square foot installed.
14. Synthetic Roofing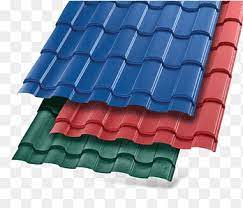 Synthetic roofing is a generic term that covers a multitude of rubber or vinyl roof coverings. You can get slate-effect, tiles, shakes, shingles and many more varieties. This type of roofing is often termed "Composite roofing."
Synthetic roofing typically contains recycled plastics or rubber, and it has the advantage of being a lot lighter than other materials. They can also stave off the effects of mold and mildew, thanks to how the material is chemically treated.
Several manufacturers also claim that synthetic roofing is fireproof, making it the ideal material to use in high risk areas.
Expect to pay somewhere between $3.50 and $5 per square foot. Most synthetic roofs should last between 50 and 75 years.
15. Eco-Friendly Green Roof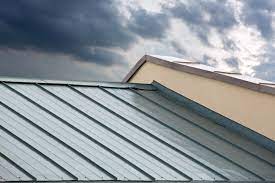 If you have moss on your roof, it is generally a bad sign, but a properly planned living roof is an effective material.
It is planet-friendly, releases oxygen back into the atmosphere, insulates your home, and absorbs rainwater. The other plus is you can grow plants.
To create a green roof, first lay down a waterproof membrane and allow for adequate drainage. A living roof can be intensive, meaning it supports plant life and people, or it can be extensive, which is better for lighter duties.
The costs of installing an eco-friendly roof vary enormously, but if you are willing to spend to make an environmental statement, go for it.
Just remember that living roofs require a lot of maintenance to keep them looking their best, so you had better have a head for heights.
16. Solar Tiles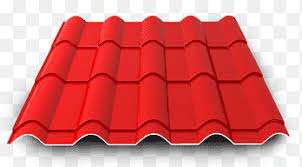 Solar tiles perform the same as solar panels, but they form part of your roof rather than an additional bolt-on. These tiles are constructed from photovoltaic cells, which creates an electric field when the sun shines on them.
Solar tiles and shingles are more durable than standard shingles, so they are an effective roof material. The other advantage of solar tiles compared to panels is they cost less to replace when something goes wrong.
The disadvantage of solar tiles is the cost. They are extremely expensive. If you were to install a Tesla solar-tiled roof on a 2,000 square foot home, it would set you back about $42,000, which is just over $21 per square foot installed.
17. Stone-Coated Steel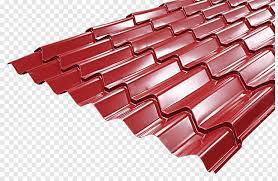 Stone-coated steel roofs are a relatively new material, so you might struggle to find a qualified installer. They were first developed in New Zealand some 50 years ago and have since gained popularity in the US.
 Typically, this type of roofing material is made from recycled materials, so it is an eco-friendly alternative. Also, some insurance companies offer discounts for homes with stone-coated steel roofs because of their weather and fire resistance.
Another huge advantage is you can lay this material straight onto asphalt roofs without the need to rip it out and start again.
There are plenty of other advantages to consider:
Metal is more energy-efficient.
Stone-coated steel is more durable.
It typically has a 50-year warranty.
Metal roofs require less cleaning.
Can handle wind and rain.
Fire-retardant.
Lightweight.
Stone-coated metal roofs are not cheap. Expect to pay between $185 and $400 per square foot installed. So, if you have a 1,200 square-foot roof, the costs could vary from $7,000 to $10,100.
If you like the sound of rain hitting your roof, then you will like this material. It is very noisy. For a quiet life in bad weather, choose a different material.  
18. Rubber Slate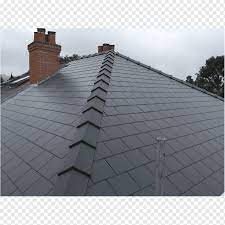 Rubber slate shingles look surprisingly similar to natural slate roofs but are constructed from polymer mixed with recycled plastic and rubber.
Rubber slate is lightweight, so if you have a roof that supports less weight, this is a viable alternative to slate. It isn't as durable as slate, but you still get a 50-year warranty.
Expect to pay between $6 and $12 per square foot installed.
Roofing Materials FAQ
What is the best material to use for a roof?
It is a question of location and house-type. If you have a low-pitch roof, asphalt is a great material to use. Membrane and rolled roofs are also real contenders.
However, if you live in a high fire risk location like the forest, you will need a fire-resistant material like metal or slate. You could also try clay shingles.
For those who live in colder climates, the weight of heavy snowfall can cause issues with your roof, not to mention water damage. Try using a raised seam metal roof or clay and metal shingles. Slate is another great material for heavy snowfall.
What is the most durable roofing material?
Metal and slate roofs are the most durable. You will probably never need to replace a slate roof as it gives over 200 years of service. Most stone-coated metal roofs come with a 50-year warranty and protect for 100 years plus.
What is the cheapest roofing material?
The cheapest roofing material is rolled or asphalt. They are lightweight and easy to install but give the least longevity. Expect to get between 10 and 20 years before they need replacing.
Rolled roofing costs between $2 and $3 per square foot, while asphalt is similar, costing $2 to $4 per square foot.
Truth About The Roof
Weighing up which roof material is right for you is a matter of choice, suitability, and budget. Some people will be happy with a rolled or asphalt roof, and that's fine as long as you know to replace it in 10 or 20 years.
Others will spend big and get a roof that lasts a lifetime or more. You should also consider your environment. A roof on a home in California does not have the same demands placed on it as an Alaskan roof.
Whichever material you choose, remember that the way your roof looks can really frame your house and make it stand out.