The best way to create a good impression of your home is to choose a beautiful front door that will enhance the color and design of your house. What are the best front door colors for a gray house?
The best door colors for a gray house are navy, white, green, orange, black, and burgundy. These lovely door colors paired with gray will create a stunning entrance to any home. Choose door colors that will enhance a gray house's beauty and offer visitors an inviting ambiance.
A beautiful front door is an asset to any home and choosing the right color is essential. Below are six of the best front door colors for a gray house.
Choosing The Best Front Door Color For A Gray House
Be selective when choosing the best color for the front door of your house. This will be the first impression that guests will have when they enter your home. The door color should be an expression of your personality. It should be an inviting indication of the style and décor within your home's interior.
You could make a bold statement or opt for a more toned-down and neutral color. Whatever color you choose must match perfectly with your exterior gray walls. Below are some gorgeous colors for the front door to enhance a gray-colored house.
Navy Door For A Light Gray House
Navy is a beautiful dramatic color and, when paired with the softer shade of light gray, creates a gentle color combination.
This gorgeous navy front door is framed by stark white panels, which creates a stunning and bold effect. The softer shade of the pale gray walls tones down the stark contrast of the navy and white and brings warmth to the palette. Adding bright yellow to the mix gives the look a splash of color and added warmth. This is the perfect way to boldly welcome guests to your home.
White Door For A Dark Gray House
The neutral shade of white is one of the best colors to pair with gray. This combination creates a classy and stylish look that is timeless.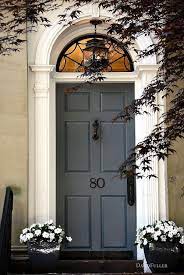 A beautiful white front door stands elegant and regal against the warm color of dark gray walls. And although these colors are both neutral, they still put on a stunning show. Paint the window frames and trim white to enhance the color combination. Also, choose a light gray flooring for your front porch. Classic simplicity that still makes a statement!
Green Door For A Gray House
Choose an apple-green door for your gray house for a fresh look with a splash of color. Green is associated with nature and will perk up the more subdued shade of gray. It will look cool and inviting in the summer and add color to the drabness of a winter day.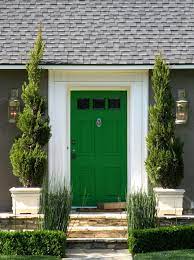 This lovely apple-green front door brings an exciting and enticing look to the home. The gray stone walls create a subdued yet homely feel. You can add lovely potted plants on the sides of the door to enhance the green color of nature. With this color combination, you can create a stunning first view of your home.
Orange Door For A Deep Gray House
An orange door will bring a fun element to a gray house. Pairing subdued gray with gregarious orange is a combination that will blend together perfectly. The gray walls add style and provide a perfectly soothing backdrop to the dashing orange door.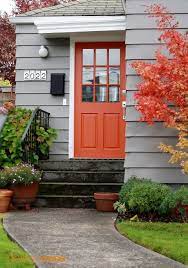 This gorgeous orange door makes a bold statement, and the dark gray walls are the perfect color to tone down bright colors. The light gray pots, ornament, and paved flooring in a lighter shade of gray blend in beautifully with the orange and is a lovely contrast against the dark walls. The green plants bring the soothing effect of nature to complete a stunning entrance to this beautiful home.
Black Door For Pale Gray House
A black door brings a feeling of elegance and chic to a home. When paired with gray walls, this color combination is modern and sophisticated.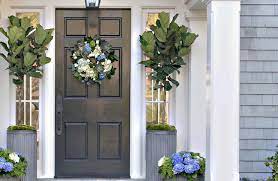 The bold black door framed by the lighter gray walls makes a solid and bold statement. These colors bring a stately feel to the home, making it look luxurious and elegant. The tall potted plants that frame the door are beautiful enhancements to the beauty of a black door.
Burgundy Door For A Gray House
Burgundy is a rich reddish-brown color like the hue of fine French wine. This cool color pairs beautifully with dark or light gray and will bring a chic look to your home.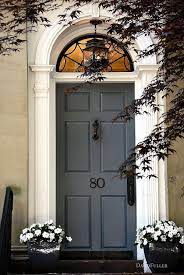 The stunning burgundy front door, framed by white trim and soft gray walls, makes a bold statement. The lovely white light fittings and the burgundy-colored wooden furniture enhance the front door's color. The stunning combination of burgundy, gray, and white creates a welcoming ambiance on this lovely wide front porch.
Conclusion
Choosing a lovely color for the front door to complement a gray house is essential for creating a welcoming feel for visitors to your home. Colors that pair well with gray are navy, white, green, orange, black, and burgundy.