In previous eras, porch lights were used simply to allow you to enter your home easily when it was dark or to make houses more welcoming. Modern porch lights have colors to represent a cause. If you are uncertain what the colors of porch lights mean, read on.
Across the USA, different colored porch lights are used to represent different social movements. Blue front porch lights are used for autism awareness and respect for the police and their families. Porch lights may be green, red, orange, yellow, purple, and pink, each having a unique significance.
Changing your front porch light to a colored one can be a means of conveying and supporting an issue that is important to you. It is a subtle and inoffensive way of declaring what you believe in.
What Does A Blue Front Porch Light Mean?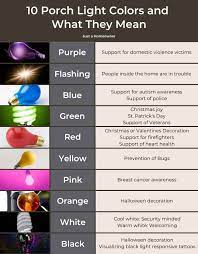 A blue front porch light has a few different meanings. The original meaning of a blue front porch light is to signify respect and support for the police and their families.
Police take on a dangerous and difficult job, protecting US citizens from criminals. They put their lives at risk every day, and people show their appreciation by lighting their front porches with blue globes.
In 1988, a lady called Dolly Craig started putting two blue candles in her front window. One was for her son-in-law Danny Gleason, a Philadelphia policeman, who died while on duty. The other was for Danny's wife, Pam, who died in an automobile accident two years later.
The two blue candles were Dolly's way of honoring her policeman son-in-law and his family. Danny and Pam had left six children who were shattered by the loss of their parents.
Dolly wrote to Concerns Of Police Survivors (COPS) about her two blue candles. COPS began Project Blue Light to remember fallen policemen and women and show support for their families.
Blue signifies peace, which is why blue was chosen for this project. We would not need to lose police officers if we all lived in peace.
The second meaning of a blue front porch light is to support people impacted by autism. The Center for Disease Control and Prevention (CDC) estimated in 2017 that 2.21% of adults in the USA have Autism Spectrum Disorder (ASD).
April 2nd is World Autism Day, and people often choose to show their support for this cause by having a blue porch light. They may keep it on for just one day, a week, or even the whole month.
Autism is a spectrum disorder that creates significant challenges for the affected individual and their family. Autistic people typically struggle with integration into society. Awareness of their condition encourages social tolerance for people that hear a different drummer.
Blue front porch lights may also indicate support for those suffering from Alopecia Areata. The autoimmune condition causes patchy hair loss. This meaning for displaying a blue porch light is not as well known.
Does A Red Front Porch Light Have Special Significance?
Many people use red porch lights for some classic holidays. Christmas is closely identified with red, and porches may be seen shining red lights during this festive season.
Valentine's Day is another holiday associated with the color red. People who value romance and love may choose to change their porch lights to red on February 14th.
Playing on the association between Valentine's Day, love, and hearts, the American Heart Association chose February as American Heart Awareness month. Using a red porch light also indicates support for heart disease patients.
In the USA, every 34 seconds, a person dies from cardiovascular disease. Shining a red porch light reminds people to pay attention to their heart health and seek help timeously if they notice symptoms.
Red front porch lights may be used in memory of firefighters that have died on duty. Red lights symbolize respect for the work of firefighters and the sacrifice they and their families make when they risk their lives daily.
Red lights are a very old sign indicating prostitution. Red became associated with prostitution through a biblical reference in the book of Joshua. Rahab, a prostitute in Jericho, aided the Israelites in their attack on the city. She was instructed to hang a red cord by her home to ensure her safety.
What Does A Green Porch Light Mean?
November 11th is Veteran's Day, and many people use green lights on their porches to remember and show respect to past and present veterans that protect the United States.
Memorial Day in May is a time to salute military personnel that have died serving their country. Besides ceremonies, this public holiday is marked by people changing their porch lights to green ones.
Some people with family or friends serving in the military keep their green porch lights burning throughout the year.
The US has a large Irish population that arrived with the early settlers. They brought with them the celebration of St Patrick's Day on March 17th.
Green symbolizes Irish patriotism and, as such, has become a symbol for St Patrick, the patron saint of Ireland. Many people worldwide celebrate by decorating their homes with green porch lights.
May is Lyme Disease awareness month. The Green Light Campaign strives to create an awareness of this disease, the need to prevent it, early intervention, and support for those with Post-Treatment Lyme Disease Syndrome. Putting a green light on your porch shows solidarity with this campaign.
What Do Purple Porch Lights Mean?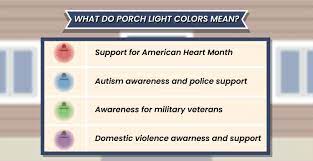 The national statistics for domestic violence in the United States are frightening. More than 20 000 calls are placed to domestic violence helplines daily. These are only the ones asking for help. There are many more, too afraid or ashamed to bring attention to their plight.
October is Domestic Violence Awareness month. Purple was chosen as the color for this campaign. Placing a purple light on your porch shows support for those living with domestic violence and remembers those that have lost their lives and homes to this particular darkness invading society.
Purple porch lights are associated with anti-human trafficking campaigns. Human trafficking is as real a scourge as slavery was hundreds of years ago.
Purple lights indicate that the members of that home do not tolerate domestic abuse or human trafficking. Their home may be offered as a safe haven for those running away from an abuser. The people in the home will assist an individual in getting the appropriate help.
What Does A Pink Porch Light Mean?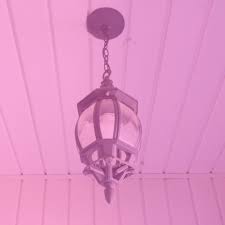 Most people are aware that pink is a color that has become synonymous with breast cancer. October is Breast Cancer Awareness month. Using a pink porch light, remembers a friend or family member who lost their fight with breast cancer.
The pink light may remind people to check their breasts for lumps and consult a doctor if there is any concern. In addition, it shows support for those wrestling with this horrible disease.
Pink light bulbs are sold by charities raising funds to further breast cancer research and help people get treatment. Purchasing a light bulb helps financially in the fight against breast cancer, and putting the light on your porch raises awareness – a two-pronged attack.
In New York, pink porch lights are used to remember and encourage children fighting leukemia. Seeing streets full of pink porch lights shining can significantly impact sick children's morale.
The people of Nebraska use pink porch lights to remember a family of six that died during a house fire in a rural area.
What Does An Orange Porch Light Mean?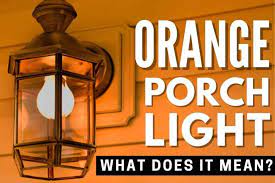 In the USA, orange is mostly associated with Halloween due to the color of carved pumpkins used during this celebration. Orange porch lights are popular as decorations during Halloween.
In Delphi in 2017, two teenage girls were murdered horrifically, and the city rose up in protest. The Light Up Delphi campaign sold orange light bulbs to raise funds for the victims' families. The lights were used to show solidarity with the family and as a cry for justice.
The murders of Libby German and Abby Williams have not yet been solved, and the case remains open. Many Delphi residents still use orange porch lights to remember the girls and keep the call for justice ongoing. Orange porch lights have been used in other areas to indicate a need for justice.
Does A Yellow Porch Light Mean Anything?
Yellow porch lights are common but carry no special significance. Some people believe yellow lights deter insects from collecting on the porch.
Conclusion
A colored porch light is an easy way to support and care for people struggling with life. It can show respect for the many people that selflessly serve others in their country. Colored porch lights can help draw communities together and create a sense of connection that is often missing in the modern world.